New K-9 officer on the job with BPD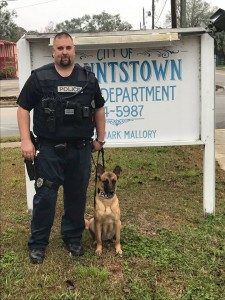 by Teresa Eubanks, Journal Editor
She's just under two years old, recently finished training school and is the newest officer at the Blountstown Police Department.
Berri, a female Belgium Malinois, has been assigned drug detection duties and is now working with Officer Jody Hoagland.
Blountstown Police Chief Mark Mallory said he's been wanting to get a drug dog for his department since he took the job more than three years ago.  He said that before he could justify the purchase of a K-9 officer, he had to address a few priorities in his budget like infrastructure updates, body cameras, digital radios and other necessary equipment.
Berri, who was a rescue dog trained to work with law enforcement, was considerably less expensive than typical drug dogs.  The City of Blountstown spent $3,000 for the animal in addition to hotel and fuel costs for Berri's partner to join her for a two-week training program in San Antonio, TX.
A K-9 cage to go in Hoagland's patrol vehicle was donated to the agency by Jackson County Sheriff
"This is a very tough breed of dog but she's very gentle and has got a lot of drive," Mallory said about the Belgium Malinois. He's comfortable enough with the animal to let his children pet her but cautions, "She's got big teeth and all dogs bite."
Berri is assigned to the patrol division and will be visiting area schools and working traffic as well as accompanying officers as they serve search warrants to help sniff out illegal substances hidden in homes.