Guns, dirt bike and other property taken; Woman charged with armed burglary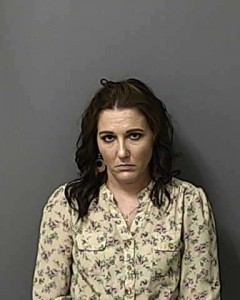 A Kinard woman is charged with armed burglary of a dwelling, two counts of grand theft of a firearm and theft of property valued between $300 and $5,000 after she allegedly broke into the home of her former husband.
Lacy Kay Ridley, 31, was arrested after a family member went to pick up some items from a Kinard residence.
Even though it appeared a key was used to open the door, a front window was also broken at the residence sometime between Nov. 19 and Nov. 26, according to the complainant.
The list of stolen property included a 9mm pistol valued at $300, a 12-gauge shotgun valued at $400, a miter saw worth $139, a 50 hp Yamaha dirt bike valued at $500, a handheld grinder worth $130 and a jar that held approximately $50 in cash.
The property owner said the woman no longer lived there and had not returned her key.