Bristol driver escapes injury after mid-morning crash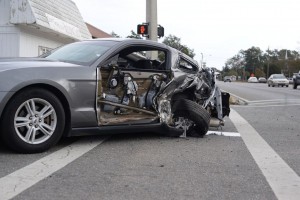 by Teresa Eubanks, Journal Editor
"I'm fine…I'm just thankful to be here," said Tammy O'Brian, 53, of Bristol after her car was slammed from behind by a man fleeing a deputy Saturday.
As she was leaving home around 10:40 a.m., she called her husband - who had gone bass fishing - to tell him she was heading to the Christmas event at the square in Blountstown and then going on to Panama City to do some holiday shopping. The last thing he said to her was "Just be careful."
The collision tore off the driver's side of the 2012 Ford Mustang and knocked the vehicle several feet onto CR 12 S, where it stopped in the crosswalk between Chevron and the Healing Ministries Apostolic Church.
The traffic light had turned green and she said she had just started into the intersection on SR 20, heading west toward Blountstown, when she was hit. She was in the outside lane. The stolen SUV driven by Carlester V. Fryson had been traveling in the inside lane.
It wasn't until after the impact that she saw the other vehicle. "It slid down the road and then started rolling," she said. Witnesses said the SUV overturned several times. When it finally halted, Fryson's companion, Brittany N. Nutter, 18, who was driving a white truck, stopped and picked up Fryson and the two took off.
O'Brian said the first thought she had after her car was struck was "I know that light was green." Her second thought was, "You're OK." Then her Mustang rolled to a stop.
Remarkably, her injuries were limited to a bruised arm, a sore neck and "a little abrasion on my head," she said, although the crash left her covered in shattered glass. She had to exit the car by crawling out the passenger's side. After being seen to by the ambulance crew, she went by private vehicle to the ER at Calhoun Liberty Hospital for a more complete exam. She returned home that afternoon.
She said she was surprised to discover she wasn't sore the next day and was able to accompany her father to church that morning.
The fact that the driver's side air bag deployed and that she was wearing her seat belt helped her avoid a serious injury, she said. She also credits the design of the car's seat, which she described as "kind of like a cradle that wraps around you" in keeping her from further harm.
Moments after the crash, the intersection filled up with people coming to check on her. Several people taking part in a Christmas play rehearsal at Lake Mystic Baptist Church arrived quickly, along with many others. "I was surrounded by a lot of my church members, family and friends," she said.
O'Brian, who is a clerk at the Bristol Post Office, happened to be off from work that day and was scheduled to be off the next two days. She said she will be back on the job Wednesday.
"I hate that it happened," she said about the crash, "But I want to let people know how much I appreciate all of them. People around Bristol are just special."