Two in custody after high speed chase, collision in Liberty Co.
by Teresa Eubanks, Editor
The Calhoun-Liberty Journal
Two people suspected in three Leon County robberies, a high speed chase through Liberty County and a collision with another vehicle at the red light in Bristol are at this moment being interviewed by investigators from the Leon County Sheriff's Office.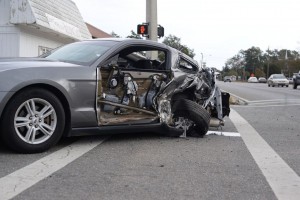 Brittany Nutter, 18, of Tallahassee and a man who identified himself as Fryson Carlester but did not give his age or address were taken into custody and transported to the Calhoun County Jail after an FHP trooper found them parked on the side of the road just four miles inside the Calhoun County line on SR 20.
Nutter was standing on the shoulder of the road, talking with a couple who pulled over when she waved them down, according to Calhoun County Sheriff Glenn Kimbrel.
The pair were traveling in a stolen Chevrolet pickup and had just fled from the scene of a traffic crash in Bristol. Carlester, who at that time was driving an SUV, also believed stolen, hit the driver's side of a Ford Mustang driven by Tammy O'Brian of Bristol. The SUV overturned and rolled. Nutter, who was driving the pickup, stopped and got Carlester and the pair fled into Calhoun County.
When they got into Blountstown, they immediately tried to get another vehicle, according to Kimbrel. He said the two stopped at a repair shop across from the Calhoun County Courthouse, where they offered an employee several thousand dollars for a vehicle "but there wasn't one for sale there," the sheriff said.
The pair then stopped at Mallory Towing, where they tried to get another vehicle. An employee there said they did not have one for sale. The pair didn't leave empty-handed, according to the sheriff, who said they took the employee's cell phone when they left.
Kimbrell said they recovered "a large amount of cash" in the truck but did not find a gun.
O'Brian was up and walking after the crash, which left her with what appeared to be minor injuries. She declined ambulance transport from the scene.
PHOTO: The pickup hit the driver's side of the car driven by Tammy O'Brian at the red light in Bristol Saturday. DANIEL WILLIAMS PHOTO