Love for Liberty extends deadline to add children to their gift list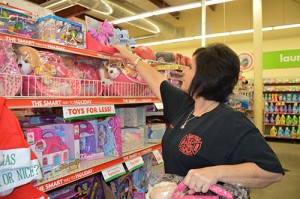 by Teresa Eubanks, Journal Editor
The deadline to add a youngster's name to the list of those who will receive Christmas presents through the Love for Liberty project has been extended to Dec. 2.
"We have 45 to 50 names and we've got room for 15 to 20 more," said Melissa Peddie about the effort by volunteers to ensure area children don't have to go without gifts this Christmas.
Families who may not be able to provide holiday gifts for their children are urged to submit their names as soon as possible. Applications are available from guidance counselors at Hosford School, Tolar School and LCHS as well as the Clerk of Court's Office.
Applicants are asked to bring a photo ID and/or a copy of utility bill with proof of residency. Completed applications can be dropped off at the Clerk of Court's Office in Bristol.
Love for Liberty is targeting children who are eight years old and up. Another local charity drive, Angels for Liberty, focused on providing gifts for youngsters from ages two to seven. Their deadline for names closed on Nov. 18.
Donations of new toys are still being accepted, as are cash contributions. Drop off locations for the toys include the Liberty County Clerk's Office and the Emergency Management Building.
There are also boxes at the Family Dollar and the Dollar General in Bristol where you can buy and donate toys.
For more information, contact any of the following volunteers:
•Darrell Johnson at (850) 879-1901
• Rachel Johnson at (850) 879-1918
• Donna Summers at (850) 643-8474
• Beckie Black at (850) 556-4270
• Melissa Peddie at (850 447-0209