Altha man facing drug charges months after fleeing the state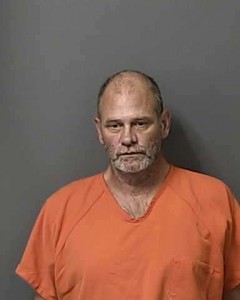 by Teresa Eubanks, Journal Editor
An Altha man has been charged with five first degree felony counts of selling methamphetamine and one second degree felony count of selling synthetic marijuana (known as Mojo), all within 1,000 of a house of worship, following an investigation started last year by the Altha Police Department.
Earl R. Blackwell, 50, was taken into custody on Nov. 23.  He is being held on $150,000 bond.
"We went to execute the warrants on April 19 and learned that Blackwell had already absconded from the State," according to Altha Police Chief Jimmy Baggett.
About two weeks ago Blackwell was involved in a traffic stop in Atlanta, GA.  When a check was run on his license, it was discovered that he had outstanding warrants. He was returned to the area and booked into the Calhoun County Jail last week.
The investigation started Nov. 1, 2015 after the chief received complaints after vehicles coming and going from Blackwell's home, which is near Altha Baptist Church.
Baggett said numerous vehicles were seen arriving at the residence and then leaving after only a few minutes.  In some cases, he noted, people would park down the road and walk to Blackwell's home, where they would stay for a short time.
He said several of those who frequented the residence have previously served time for drug offenses, including one man who had moved in with Blackwell.
After the investigation started, "We were successful in infiltrating the system Blackwell had going," Baggett said.  "Over the period of approximately two and a half months, we were successful in purchasing meth, crystal meth and synthetic drugs from Blackwell."