Altha man arrested for trafficking in Xanax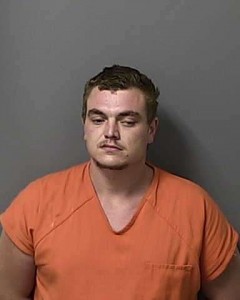 A passenger in a vehicle that was pulled over because the brake lights were not working was arrested for carrying a concealed weapon and trafficking in Alazopram (Xanax).
Calhoun County Sheriff's Deputy Nick Keller was on patrol Friday night on CR 274 when he passed a westbound vehicle and saw that the brake lights were out.
He conducted a traffic stop after the vehicle turned north onto CR 73A.
The driver, Stephanie McDaniel, 33, of Blountstown, handed over an ID card and told the deputy she didn't have her license because she had failed to pay traffic fines.
The deputy then found that the passenger, Clifford Coy Bramblett, 23, of Altha, also had a suspended license.
When Bramblett got out of the vehicle, he "made furtive movements" which resulted in a search. Several objects consistent with weapons were found on his person and in his pockets, according to the deputy's report. Those items included a set of brass knuckles, which resulted in Bramblett's arrest.
When a bottle labled "Sleep Aid" that contained Xanax was found in Bramblett's pocket, he acknowledged that he did not have a prescription. A second bottle was discovered in the top of his boot, which was covered by his pants. A total of 45 pills were found.
A wrecker was called to remove the vehicle from the scene since neither occupant could legally drive.
Bramblett was taken to the Calhoun County Jail. His bond was later set at $2,500.
McDaniel was issued a notice to appear in court for driving while license suspended or revoked with knowledge.