Speeding stop results in arrest for possession of controlled substance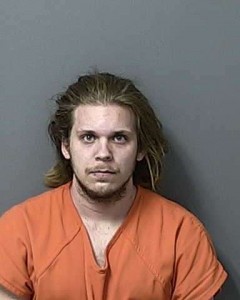 A drive through Calhoun County ended with a trip to the county jail for a Clearwater man, who was found to be in possession of an unspecified amount of cocaine, some pills, less than 20 grams of marijuana and a pistol.
Dustin J. Anderson, 24, caught the attention of Blountstown Police Officer Ethan Shuler when he was clocked going 23 miles over the speed limit on Cayson Street on Nov. 7.
When the officer went to talk to the driver, he noted the odor of marijuana coming from the vehicle which resulted in a search.
Two small baggies containing a white powder that tested positive for cocaine were found in a case in the vehicle, which also held five Oxycodone pills and two Diazepam pills.  Anderson then told the deputy there was some more marijuana and a gun in a suitcase in the back of the vehicle.  Anderson stated that he legally owned the pistol.  A check was run on the .45 Smith & Wesson and confirmed that it was not stolen.
Anderson was charged with three counts possession of a controlled substance, possession of less than 20 grams of marijuana and possession of drug paraphernalia.