Blountstown woman killed, another injured in SR 71 crash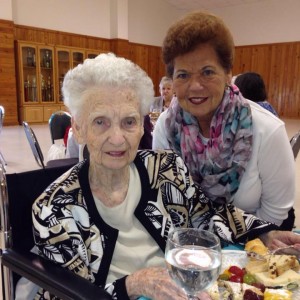 by Teresa Eubanks, Journal Editor
A 97-year-old Blountstown woman was killed Nov. 15 and another seriously injured when their car struck a tractor in Jackson County.
The deceased was identified as Mildred Strawn.
According to a report from the Florida Highway Patrol, Strawn was a passenger in a 2009 Mercury Marquis driven by her daughter, Marie Granger, 68, of Blountstown.
The vehicle was southbound on SR 71 around 5:31 p.m. when it collided with the left rear tire of a logging skidder attached to a 2014 John Deere tractor that was stopped partially in the road.
The impact caused the car to rotate and become airborne.
A northbound 2006 Isuzu truck, driven by 29-year-old James Marcum of Bonifay, hit the left side of Granger's car, causing it to overturn onto its roof.
Marcum's truck continued traveling northwest and went off the road into a cotton field. Both he and Granger sustained serious injuries. Marcum was transported to Bay Medical Center; Granger was taken to Tallahassee Memorial.
A 1998 Chevrolet Camaro traveling behind the truck avoided contact with the other vehicles by driving off the road into the cotton field. The driver, Joshua Williams, 36, of Cottondale, was not injured.
The tractor was being operated by Devin Atwell, 23, of Bonifay. He was not hurt.
All three involved in the crash were wearing their seatbelts, the FHP report noted.
Charges are pending the completion of the homicide investigation. The crash is being investigated by Trooper J.R. Solomon and Cpl. W. Mathers.
Services for Mildred Strawn are scheduled for Saturday at Adams Funeral Home.  Her complete obituary appears on page 15.
Marie Granger - a longtime culinary instructor who has inspired many of her students to develop their skills in the kitchen and pursue careers in the hospitality field  -   has been released from the hospital and is expected  to undergo further treatment for an injured arm.