Altha man charged with attempting to strike police chief and officer's cars during pursuit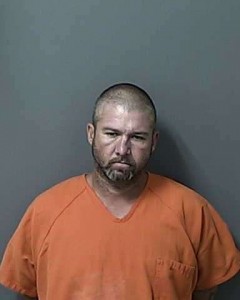 An Altha man who fled an attempted traffic stop and later reached speeds of over 100 mph as he disappeared down SR 20 earlier this month was taken into custody Nov. 16.
Joseph Daniel Spence, 39, is facing charges of fleeing and eluding police, two counts of aggravated assault on a law enforcement officer and driving while license suspended.
According to the arrest report, Blountstown Police Officer Daisy Holliday was traveling east on Central Avenue on Nov. 6 when Spence, who was westbound, drove past the patrol car.  The officer noticed that he was not wearing a seat belt and turned around to follow him.
After contacting dispatch, Holliday learned the registration on the brown two-door car had been canceled.  She then signaled for Spence to pull over after they turned north on Main Street.
Spence appeared to be getting ready to stop but suddenly turned east onto Clark Street and then south onto McKeown Street, going faster to get out of sight of the officer.
He sped out into oncoming traffic on Central Avenue before turning west with the deputy in pursuit. At that point, Spence was traveling more than 80 mph while weaving in and out of traffic.
He made a sudden turn onto Silas Green Road, entered Sam Atkins Park and turned on to Pioneer Settlement Road.  There, he went off the road onto the grass and hit a tree but kept going.
When the officer turned to cut him off, Spence accelerated head-on toward the patrol car.  She managed to escape impact at the last moment.
The driver fled, heading to SR 20, where he attempted to hit BPD Chief Mark Mallory's patrol vehicle head-on.
Spence continued on to SR 20, where he continued to accelerate until reaching speeds of more than 100 mph.  The officer kept the car in her sights until the driver turned north on County Road 275 and disappeared.
The police department discovered the vehicle had been identified in an investigation by the Calhoun County Sheriff's Office and Holliday was able to look at photos of the driver and make a positive identification which resulted in his arrest last week.