Mildred H. Strawn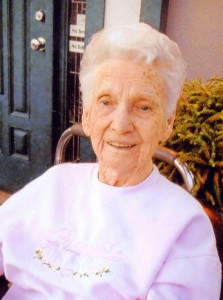 BLOUNTSTOWN - Mildred H. Strawn, 97, of Blountstown, passed away Tuesday, Nov. 15, 2016 in Jackson County. She was born Dec. 8, 1918 in Blountstown, to John M. and Dora Parish Hall.
She graduated from Calhoun County High School (now Blountstown High School) in 1936. She attended Florida State College for Women (now Florida State University) and received her teaching certification and taught school in Calhoun County at Kinard School and Macedonia School. She worked side by side with her husband in the Strawn and Son Variety Shop for over 25 years.
She was a long-standing member of Gateway Baptist Church, a Sunday School teacher, and worked with the youth and Girl's Auxiliary program. When she attended First Baptist Church of Blountstown, she was instrumental in getting the Girl's Auxiliary started. She was an active member of the Women's Missionary Union at both churches. She belonged to the Gideon's International Auxiliary for over fifty years. She was a seventy-five-year member of the Order of the Eastern Star, where she served as Worthy Matron for two different years.
She was preceded in death by her parents; her husband of 67 years, E. Clyatte Strawn; two brothers, John Earl Hall and E. Carl Hall; and a sister, Margaret Hall.
Survivors include her daughter, Marie Ann Granger and her husband, Sidney; her son, Edwin C. Strawn and his wife, Lynn; two sisters-in-law, Shirley Hall of Dothan, AL and Bonnie Hall of Lynchburg, VA; six grandchildren, Carylee Granger Sewell, Greg Granger, Bill Strawn and his wife, Lori, Chris Strawn and his wife, Karen, Billy Strawn and his wife, Lisa and Patrick Strawn and his wife, Jennifer; 19 great-grandchildren, three great-great-grandchildren; and numerous nephews and nieces.
Family will receive friends Friday, Nov. 25 from 5-7 p.m. CT at Adams Funeral Home.
Services will be held at 11 a.m. CT Saturday, Nov. 26 at Adams Funeral Home with Reverend Roger King officiating. Interment will follow at Pine Memorial Cemetery with an Eastern Star graveside service.
Memorial contributions may be made to Gateway Baptist Church Youth Fund, 17667 Main Street North, Blountstown, FL 32424 or The Gideon's International Memorial Bible Fund, P.O. Box 765, Blountstown, FL 32424.
Adams Funeral Home is in charge of the arrangements. Submit condolences online at adamsfh.com.