After hitting two vehicles and running patrol cars off the road Blountstown shooting suspect stopped after chase in Bay Co.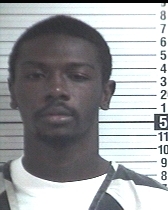 by Teresa Eubanks, Journal Editor
A suspect in a Sunday night shooting in Blountstown is in custody after leading deputies on a chase in Panama City Sunday night.
Derrick Devon Lane, Jr., 24, of Panama City was arrested after fleeing a traffic stop, running two red lights, forcing one deputy off the road and striking two vehicles before running over spike strips set up along Tyndall Parkway.  As the car was slowing down, a deputy performed a pit maneuver and stopped the vehicle.
The chase started after the Blountstown Police Department issued an alert for a white Mitsubishi reported to have been at the scene of a shooting on Yates Street around 8 p.m.  The suspect was believed to be traveling south on Hwy. 231 toward Panama City.
Bay County Sheriff's Office Public Affairs Specialist Ruth Corley gave the following account of the pursuit:
A Bay County deputy spotted the Mitsubishi going south on Hwy. 231 and followed it to the 2200 block of North East Avenue. After other deputies arrived to assist, Lane was pulled over.
The driver remained inside the car as a deputy approached.  When Lane was ordered to show his hands, he hit the gas and sped off, traveling south on East Avenue.
As the car turned south on Sherman Avenue, a deputy tried to pull up to the side of the vehicle but the driver swerved and forced the patrol car off the road.
Lane continued south on Sherman Avenue, swerving around several cars and running a red light at Sherman and 15th Street. The car struck another vehicle traveling east on 15th Street, then continued at a high rate of speed east on 15th Street while trying to run patrol cars off the road.
Lane drove through a red light at East Avenue and 15th Street, attempting to strike a patrol car.  He then went across Transmitter Road and hit another vehicle as he headed to Tyndall Parkway at a high rate of speed.
As he continued south near the 900 block on Tyndall Parkway, the car ran over spike strips that were deployed by deputies.  The spikes caught all four tires on the suspect's vehicle.   Lane managed to drive to Cherry Street and Tyndall Parkway, hitting a mailbox and several street signs before a deputy stopped the fleeing car with a pit maneuver.
Lane is charged with aggravated assault on a law enforcement officer, aggravated fleeing and eluding, and driving with license suspended or revoked. Lane was also served with three active felony warrants, including one for grand theft, one for false verification to a pawn shop and another for a probation violation following a burglary arrest. The Florida Highway Patrol charged him with leaving the scene of a traffic crash with damages over $2,000 and reckless driving.
He is being held in the Bay County Jail.  His bond was set at  $55,000.
During a search of the vehicle, investigators found two counterfeit $100 bills and two synthetic marijuana cigarettes.
The investigation into the shooting in Blountstown, which left one man injured, continues.