Was involved but not charged in 2014 shooting death of brother in Bristol Bristol man arrested in Bay Co. on methamphetamine charges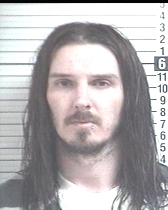 The Bay County Sheriff's Office announced the arrest of a Bristol man Nov. 3  on multiple drug charges after initially receiving a reckless driver report on the vehicle.
BCSO deputies observed the vehicle, a red Chevrolet Silverado, fail to maintain lanes by crossing the white line on Highway 231 and conducted a traffic stop in the area of Hudson Road and Highway 231.
The driver was identified as Randal B. Stewart, 37.  The deputy noted Stewart was speaking at a very low volume and that in plain view inside the vehicle were Q-Tips with one end of the cotton pulled off. This is done to use the small piece of cotton when smoking or injecting illegal narcotics. Stewart gave the deputy permission to search his vehicle.
Stewart was carrying a black .380 Hipoint handgun with three magazines loaded with .380 ammunition in a belly band holster. Stewart, during an interview later, stated he did not have a license to carry a concealed firearm. The deputy noticed the serial number had been obliterated and was unreadable.
Also found during a search of the vehicle were multiple bags of pills, and three baggies containing a substance that tested positive for methamphetamine. A meth pipe was also found. Over $400 dollars in cash was also found.
Stewart,  of 13134 NW Randy's Way in Bristol, was arrested and charged with possession of methamphetamine with intent to distribute, carrying concealed firearm without a license, possession of Alprazolam, possession of Clonazepam, possession of Diazepam, and possession of a firearm with serial number altered or destroyed.
Stewart was taken to the Bay County Jail.
In April of 2014, Stewart was not charged after an argument ended with him shooting and killing his brother at their father's Bristol residence on Turkey Creek Road.
"Based upon all of the statements and evidence, I conclude that the shooting of Roy Bryan Stewart by the subject, Randal Benjamin Stewart, was an act that meets the requirements for Justifiable Use of Force contained in Florida Statute 776," State Attorney Willie Meggs told the Liberty County Sheriff's Office a few months after the fatal shooting.
According to the state attorney, "The testimony of the witnesses shows that Roy Bryan Stewart was the aggressor throughout the confrontation.  The subject, Randal Benjamin Stewart, had the right to 'stand his ground.'"