Vets hit the road to help the homeless who served their country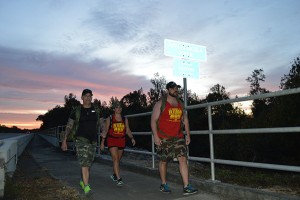 by Teresa Eubanks, Journal Editor
A 360-mile bus trip, combined with twice-a-day hikes totaling 22 miles, is just the first part of a plan by a group of veterans who hope to make things better for some of their own who are facing challenges after serving their country.
It's called the Booyah Veteran Bus Project and it began when Shane Johnson heard about 80-year-old Ellen Gilbert of Bay County who was using her own vehicle and gas to take homeless veterans to medical appointments they would otherwise miss.  When Johnson learned she'd put 300,000 miles on her Mazda truck, "the bus project got its spark," according to the group's driver, Charles Anderson.
Johnson was joined on his mission by two fellow Marines he first met in boot camp, Richard McCuen and Shawn Moore.  Anderson, who served in the Navy, recently came on board as a driver for the group.  The former Seabee joked, "I can't let the Marines have all the fun."
After getting a bus painted to promote their project, the men began their trip.  They left from the veterans hospital at Lake Nona in Orland on Oct. 22 and arrived in Panama City Nov. 8.  Earlier this week, they made a stop in Calhoun County and camped at the Panhandle Pioneer Settlement.  Before leaving Tuesday morning, they did a section of their hike at the Apalachicola River Bridge to retrace their path into Calhoun County.
The goal is to bring attention - and then, hopefully, a solution - to the problems facing homeless veterans.
Next, they want to get other buses that are equipped with showers to give homeless vets a chance to clean up, get a haircut and a meal as well as arrange transportation to medical facilities when needed. They hope to have a bus in every major city "becoming a beacon of hope for the many that will use its service," according to the website.  "As more people join us in this fight by providing funding or donating buses we will be able to expand our reach and help many more Veterans throughout our nation. By creating an 'Army' of volunteers and support through the philosophy of 'No Veteran Left Behind' we will gain an influence that stretches across the nation helping Veterans," the web site explains.
After that, they're hoping to find a permanent solution by establishing a 13-week-long transitional housing and vocational training program to help vets get back into civilian life.  After completing the program, participants will have a mentor as well as a job opportunity, according to Johnson.
Anderson acknowledged that the three Marines have all suffered difficulties of their own.  One of the men lived in his car for nine months; another spent a month calling a car home while the third man found himself sleeping on a buddy's couch for a while.
"Since leaving the military, they've all had rough times," Anderson explained.  "They've all been knocked down but definitely got back up.  The thing about us," he said, referring to veterans, "is we bounce back."
To find out more about the project, visit www.booyahveteranbusproject.com, go to Booyah Veteran Bus Project on Facebook or search #GetontheBusWithUs.