Liberty County falls to Baker 49-0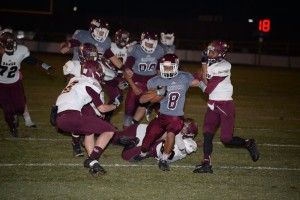 by Jackson Summers, Contributing writer
The Liberty County High School Bulldogs finished up their 2016 season last Friday night on the road, taking on the Baker High School Gators.  Baker fielded 25 seniors, and had already notched a win against Blountstown earlier this year, so the Dawgs knew the game was going to be a challenge, and it was.
Things actually started off well for the Bulldogs.  After receiving the opening kickoff, the Dawgs managed to steadily move the ball on the ground, stringing together several first downs.  With the ball near the red zone on the Gator side of the field, LCHS was threatening to take an early lead.  Unfortunately, a broken play resulted in a 10-yard loss, which was followed by a holding penalty, and all of a sudden the Dawgs were back out near midfield and way behind the chains.  After forcing a punt, the Gators ripped off a long touchdown run, and really never looked back.
The Dawgs were able to consistently move the ball, but would seem to always get derailed by missed assignments, or untimely and costly penalties.  This two-headed monster has tormented LCHS all season, and Baker was willing to take advantage of every miscue.  The final score was LCHS 0, Baker 49.