Kimbrel will keep sheriff's badge; Yoder gets another term as superintendent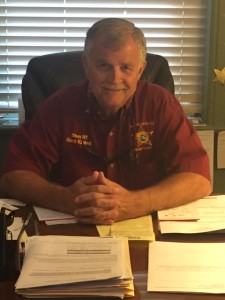 by Teresa Eubanks, Journal Editor
Glenn Kimbrel is staying on the job as Calhoun County Sheriff after getting over 71 percent of the vote in last night's election.  He received 4,272 votes.  His sole opponent, Eddie Dalton, received 1,738 votes.
It was also a good night for incumbent School Superintendent Ralph Yoder, who got over 63 percent of the vote.  His closest opponent, Kelly King, had 1,416 votes to Yoder's 3,816. Ivey McClain garnered 485 votes while Jimmy Marshall had 303.
Sharon Chason emerged as the winner in the race for a new Elections Supervisor, receiving over 44 percent of the vote with 2,623 ballots.  Zane Wood pulled in 1,816 votes while Terri Waldron received 1,494.
Carla Peacock claimed the Property Appraiser's job by a narrow margin.  She had 3,013 votes while her opponent Kathy Herrmann received 2,877 - a difference of just 136 votes.
The District 1 County Commission race was even closer, with Danny Ray Wise getting the most votes with 465, followed by Edward Holley with 454 and Nathan Goodman with 416.
Jeral Hall took the  District 3 County Commission race with 738 votes to incumbent Lee Shelton's 691.
Gene Bailey claimed the District 5 seat on the County Commission with 694 votes to Harold Pickron's final tally of 433.
In the District 2 School Board race Ray Howell came out on top with 773 votes to Kevin O'Bryan's 705 votes.