Kinard Halloween Carnival keeps the fire trucks rolling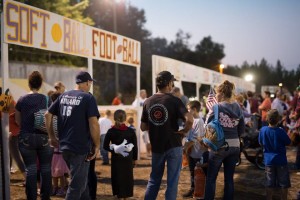 by Teresa Eubanks, Journal Editor
"It was one of the biggest crowds we ever had," said Kinard Fire Chief Doyle Daniels about the annual Kinard Halloween Carnival held Saturday,  which raises funds to keep the volunteer fire department in operation.
After weeks of work and planning, volunteers crawled out of their beds early on Saturday to start the peanuts boiling at 5 a.m.
At 5 p.m., the crowds starting coming and remained until after 10 p.m.
It takes a lot of people to bring it all together, Daniels said.  "Thank God this was an election year," he laughed.  "All the candidates showed up and we put them to work.  They were a tremendous asset this year."
He said candidates helped run the game booths, worked in the kitchen and collected money and made change.
There is no admission charge and the games only cost 25 to 50 cents to play.  And, he added, at every game booth "kids get candy."
While families save money at the game booths, the fire department makes up for it with the popular cake auction.  This year's biggest bid came on a Reese's Peanut Butter Cake made by Trey McGill.  Ralph Yoder paid $650 for the privilege of bringing that tasty treat home.
A chocolate cake baked by Charlotte Daniels brought in a bid of $500.
Several drawings were held, with Jessica Walden winning $500 cash and a new gun going to Todd Brown.
The carnival started in 1973 and draws families from surrounding counties each year to enjoy a real old-fashioned event.
This year they added something new by purchasing Disney character costumes.  A photo booth was set up and for just $1,  you could snap all the photos you wanted of your kids with Mickey Mouse, Minnie Mouse, Donald Duck and Daisy Duck.
When the cartoon characters were escorted around the grounds for the first time, kids stopped in their tracks to stare, Daniels said.  "It was a hit," he said of the new feature, which they will continue.