Hathaway arrested for pulling knife and making death threat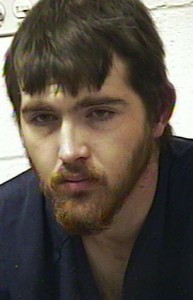 by Teresa Eubanks, Journal Editor
Witnesses reported that a Blountstown man pulled a knife on his brother-in-law, threatened to kill him and fled the scene Saturday afternoon.
James Hathaway, 26, was later charged with aggravated assault with a deadly weapon without intent to kill.  He is being held on $200,000 bond.
According to the arrest report, Hathaway entered a relative's home shortly after 4 p.m. and threw some mail on the table.  His sister saw him and then asked why he was checking the mail.  He responded by making some obscene statements before walking outside.
When his brother-in-law asked Hathaway what he had just said, Hathaway pulled a fixed blade knife from a sheath on his belt and stated, "I will kill you."  He then left and drove to his mother's home.
A 10-year-old neighbor told a Calhoun County Sheriff's deputy she was looking out of the window when she saw Hathaway pull out "a big black knife" in front of the other man.  The child did not hear any of the conversation.
Hathaway drove away from the residence, speeding past some children playing outside and nearly striking them with his vehicle.  He later stopped the vehicle near 11th Street, got out and fled on foot into a wooded area.
The dog tracking team at Calhoun Corrections assisted in the search and picked up the suspect's track that started near the vehicle he left behind.  His track continued onto the Greenway Trail, going north and then east before ending at Angle Street and Charlie Johns Street.  He was not found.
Around midnight, the sheriff's office got an anonymous tip about Hathaway's whereabouts.
Sheriff Glenn Kimbrel arrived at the scene, took Hathaway into custody and turned him over to Deputy Zach Whitfield.  After the handcuffs were double-locked, Hathaway told Whitfield he would not ride with him because the deputy had threatened his life.
According to the deputy's report, Hathaway then sat down on the ground.  The sheriff assisted Whitfield in getting Hathaway back on his feet and took him to a patrol car.
Whitfield found a pocket knife, a wallet and a few coins during a search of Hathaway's pockets.  He and the sheriff then put Hathaway in the back of the patrol car, where, according to the deputy, "Hathaway leaned forward, causing his head to make contact with the door" as the sheriff was closing it.
Hathaway said he had a head injury and needed to go to the hospital.  He was taken to the county jail and EMS was called to the scene to examine him.  En route, he struck his head against the cage separating the front and back seats of the patrol car and asked the deputy, "Why did you do that?"  Whitfield's report noted that a digital recorder was in use throughout the transport.
Once they arrived at the jail, a correctional officer came out to bring Hathaway inside for processing.  When Hathaway stepped out of the patrol car, he "intentionally fell to the ground," according to the deputy's report.
The correctional officer got him to his feet and took him inside.
When the ambulance arrived and medical personnel tried to check on him, Hathaway suddenly began speaking in broken English.  When he was addressed in Spanish and asked if he needed to go to the hospital, he did not respond.
The deputy and correctional officer filled out a form showing Hathaway had refused treatment and he was placed in jail.