Wyatt Bruce Hatcher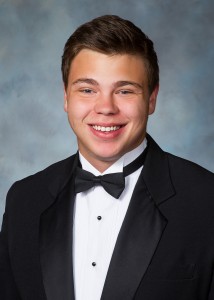 SNEADS - Wyatt Bruce Hatcher, 18, of Sneads, passed away on Sunday, October 30, 2016 in Bascom. He was born on December 22, 1997 in Marianna to Shellie Bruce and Kimberly Cullen Hatcher. He was a 2016 graduate of Malone High School, was a member of the Beta Club, ran track, and was on the weightlifting team.
Wyatt had a quirky sense of humor but would always make everyone laugh and smile. He had a very nurturing and loving personality. Wyatt was the big kid that loved life, and was always very happy, even as a child. He had signed with the United States Air Force, and was leaving for basic training in January. Wyatt had lived in Jackson County for most of his life, and was a member of the Baptist Faith.
He was preceded in death by his father, Shellie Bruce Hatcher, and Uncle Tim Cullen.
Survivors include his mother, Kimberly Hatcher and Amos Rogers, of Sneads; two sisters, Meagan Dennis and lifelong companion Jerry Wayne Franklin who was also a good friend to Wyatt, of Sneads, and Ashten Hatcher, of Chipley; his brother, Joshua Crawford and wife Stacey, of Two Egg; maternal grandparents, Betty McArthur, of Sneads and R.K. Cullen, of New Smyrna Beach; nephews, Dylan and Parker Helms, of North Carolina, and Layden and Layne Crawford, of Two Egg; maternal aunt and uncle, Slade McNeill, wife Tammy, and their children Gage and Zephie, of Altha; aunt, Gina Cullen, daughter Jordan, and family, of Panama City; paternal aunt and uncle, Mike Hatcher and wife Renee and their daughter Jessie, of Dellwood; cousins, Candy and Matt Shuff and children, and Alice Smith; the love of his life, Chelsea Edenfield; and good friends, Selene, Jacob, Tristan, Ty, and many, many more.
The family received friends on Monday, Nov. 7 at 5:30 p.m. CT until service time at 6 p.m. at Rivertown Community Church. The family would also like to make it known that all of Wyatt's friends are encouraged to come and are welcome to speak during the service and share their memories with everyone.
Memorial services were held on Monday, Nov. 7, 2016 at 6 p.m. at Rivertown Community Church in Marianna, with Reverend Kevin Yoder and Slade McNeill officiating. Memorialization was by cremation.
Peavy Funeral Home in Blountstown is in charge of the arrangements.