Man who said he was run over on bike is arrested for battery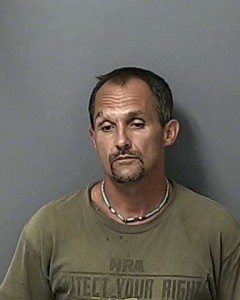 A 42-year-old man who reported that he had been run over was later charged with battery after a Calhoun County Sheriff's Deputy checked out his story.
According to the arrest report, Kristopher Bailey accused his former fiance of running him down after he left her home on 22nd Street on Oct. 11.
A reserve deputy reported seeing the vehicle the woman was driving traveling in the area at a high rate of speed around the same time he noticed Bailey walking his bike along the road.
Deputy Zach Whitfield later caught up with the woman who gave him a different account of events.  She showed him a recent bruise on her right leg she said she received when Bailey pushed her into a utility trailer during an argument.   She said he also knocked out the grill insert on her vehicle.
She said that when he left the residence, she followed in her car.   She admitted that she intentionally ran over his bicycle but stated he was not on it at the time.
She said they had dated for a few years and at one time were engaged.
The deputy concluded it was unclear if Bailey had been on the bike at the time but since the woman had a bruise indicating something physical happened between them, Bailey was arrested.