Preseason over, Tigers focus on season opener against Class 4A Walton County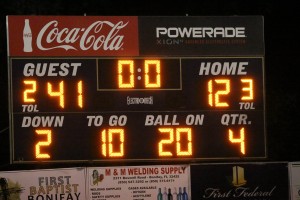 by Michael DeVuyst, Contributing writer
BONIFAY - The Blountstown Tigers made quick work of their preseason opponent last Friday night as they dispatched Holmes County in Bonifay 41-12.
The JV played the first quarter and jumped out to a commanding lead and gave way to varsity action in the second quarter. Alex Buggs started the scoring for the varsity with an interception returned for a touchdown. QB Bryson Horne chipped in two second half touchdown passes for the varsity. One pass went to Trevon Mathews and the other to Tristen Burke. With the preseason over, the Tigers will turn their attention to the regular season opener this week at home against the Class 4A Walton Co. Braves. The Braves beat the Tigers 28-14 in last year's opener.
Tiger Head Coach Greg Jordan is excited about the start of the new season. "We have just shy of 60 players on the JV and Varsity squad. Those are great numbers for a Class A school. We have 13 seniors and 20 juniors with a handful of sophomores representing the varsity this year," he said.
The Tigers' strength on offense this year appears to be the play at the skill positions of running back and wide receiver. Returning running backs Tristen Burke, Trevon Mathews and Shad Johnson accounted for 65% of the Tiger ground game last year. Leading receiver Jamal Howard returns along with K. K. Godwin and newcomer Tyreek Sumner.
The Tigers will be breaking in a new QB this year with Bryson Horne getting his chance as signal caller. Horne has been in the system for three years and knows the offense well. The Tigers lost five offensive linemen last year with only one returner coming back in Seth Brown. Brown has moved from center to tackle for the Tigers this year. The offensive line will be rounded out with Nathan Hunter, J. D. Hunter, Blasé O'Bryan, Jamarius Engram and Tucker Jordan at tight end.
On defense, the Tigers will be strong at linebacker and in the secondary. Leading tackler Trevon Mathews returns at his outside linebacker spot. Tucker Jordan, Shad Johnson and Blasé O'Bryan will also see action at linebacker. The secondary will see four returners with starting experience in RaShaad Simmons, K. K. Godwin, Jamal Howard and Alex Buggs. The defensive line will see Jamarius Engram, Seth Brown and Otis Pennywell taking the majority of snaps.
As always, staying healthy will be the key for the Tigers to be successful. Coach Jordan states, "We have some experienced players in place that will do a great job for us. Our key is to stay healthy and well conditioned and buy time for some of the younger, less experienced players to get ready to play. We will need them to step up when the time comes their way." It appears that time may be sooner than later as three Tiger starters succumbed to minor knee injuries last week and may see limited time in practice this week.
Come watch the 2016 version of the BHS Tigers this Friday, Aug. 26 at 7 p.m. CT in Blountstown.
ABOVE: Coach Greg Jordan and Trent Peacock discuss the next play. RIGHT: Trey Lynn (#23) and Otis Pennywell (#51) take down a Blue Devil. BELOW: Tristen Burke (#4) out-maneauvers a Holmes Co. player to get open. BELOW RIGHT: The JV players get their chance to show what they've got in the pre-season game in Bonifay.
TONY SHOEMAKE PHOTOS