Liberty Co. Bulldogs fall to Seahawks 40-0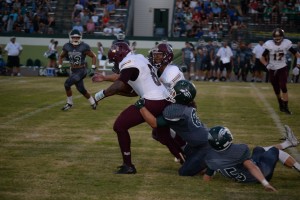 by Jackson Summers, contributing writer
Everyone knew after the preseason game with Sneads that despite the victory, LCHS had lots of room for improvement. Bulldog Nation got an idea of how much work lies ahead after coming out on the short end of a 40-0 final score against the South Walton High School Seahawks last Friday.
The weather was clear and humid at kickoff, and the South Walton fans turned out in force.
The Seahawks used a variety of runs and short passes out of a shotgun set to control the ball and keep the Bulldog offense off the field for much of the first half. When the Dawg offense did get the ball, they had a tough time sustaining drives, despite a handful of good runs by some of the running backs. At halftime, the Seahawks led 14-0.
Unfortunately for LCHS, a series of miscues and mental mistakes throughout the second half doomed chances of a comeback victory.
South Walton managed to recover three fumbles deep in Bulldog territory, leading to quick Seahawk touchdowns. The Dawgs got their best field position of the night in the third quarter when Blaine Tharpe intercepted a Seahawk pass near mid-field and returned it to the South Walton 38-yard line, but, as was the story all night, LCHS could not turn the opportunity into points.
After the game, Coach Grant Grantham reiterated the same themes from the week before, emphasizing that every player has to be focused on their assignment, execute their assignment, and give maximum effort in carrying out their assignment on every single play. "There's no doubt that we need to improve," Coach Grantham said, but noted that every practice and every game "provides an opportunity to get better."
Next Friday night the Bulldogs will again be on the road, traveling to Cross City to take on the Dixie County High School Bears at 7:30 p.m. ET
Last year, the Dawgs came out on top in one of the most hard-fought contests of the season.