Dawgs suffer homecoming loss to Northview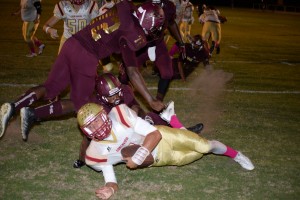 by Jackson Summers, Contributing writer
Last Friday was homecoming for Liberty County High School, and the mid-day parade and pre-game presentation of the Court were spectacles that many will no doubt happily remember for the rest of their lives. The football contest between the Bulldogs and the visiting Northview High School Chiefs was also picture perfect, at least for the 1st quarter.
After a 66-yard touchdown pass from #16 Alex Gonzalez to #5 Chris Williams, a safety of the Chief quarterback by #8 Montez Brown, and a touchdown return of the ensuing free kick by Williams, the Dawg lead stood at 15-0 at the end of the opening quarter. It looked as though the rout was on, and that this game would go down as another happy homecoming memory.
Unfortunately, the Chiefs did not go along with the script. In fact, the visitors tore up the storybook entirely, and reeled off 34 unanswered points, handing the Bulldogs a disappointing 15-34 loss. The Dawgs could not duplicate their dazzling success of the 1st quarter, as the Bulldogs' next 9 possessions ended in either punts or turnovers.
The Chiefs, on the contrary, managed to move the ball through the air and on the ground, with their quarterback, #1, making several drive sustaining passes and runs. On defense, NHS was swarming against, through, around, and sometimes over the Bulldog offensive front, with the result that pass attempt were consistently hurried, and ball carriers had little or no room to maneuver. Williams finished with 6 carries for 12 yards; #7 J.J. House had 10 carries for 11 yards; Gonzalez had 9 carries for 8 yards; and Blaine Tharpe rushed 7 times for 17 yards. Gonzalez was 4 for 15 in the passing game, for 97 yards, a touchdown and an interception. House led the Dawgs defensively with 10 tackles.
The Bulldogs are off this Friday night, and look to use the time off to heal some wounds, sharpen play execution, and finish the season strong. LCHS will take the gridiron again on Oct. 21 at 7:30 p.m., when the Dawgs play host to the Florida A & M High School Rattlers.