Man charged with battery on officer after traffic stop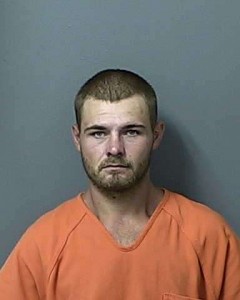 A 24-year-old Blountstown man was charged with battery on an officer, possession of methamphetamine and possession of drug equipment after an Oct. 13 traffic stop.
According to the arrest report, BPD Officer Daisy Holliday stopped a vehicle traveling with an inoperable tag light around 8 p.m. on Central Ave.  After checking with dispatch, she learned that the tag had been out of date for several months and the driver, Kevin Thomas, had a suspended license.
The passenger, Taylor Smith, 24, of Blountstown, then spoke up and told the officer he "really needed to get home" and asked if he could leave.  She told him he was free to go after she conducted a pat down.
As Smith stepped out of the truck, a glass pipe fell to the ground.  The officer found a knife in his right pocket along with lighters and flashlights.  As she started to pat him down on the left side, he began pulling away as she found a plastic container in his pocket.
When asked about its contents, Smith said he didn't know what was inside and then reached for it.
As the officer began to open the container, it appeared that Smith was about to run, according to her report.
When she reached out to take hold of his arm, he grabbed her right arm, pushed against her and knocked her off balance before fleeing on foot south down Warren Street.
After radioing for assistance, a perimeter was set up and officers began the search with the help of a tracking dog from CCI.
The tracking dog found Smith a short time later in the woods between SW Sherry Ave. and Gaskin Street and he was taken into custody.
Thomas was issued a notice to appear for driving with a suspended license and a verbal warning to renew his vehicle's registration.