Fountain man arrested on DUI charge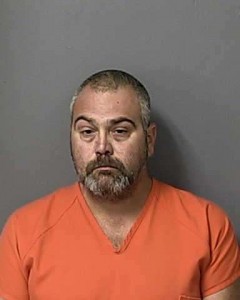 A 39-year-old Fountain man was arrested for DUI along with driving with a suspended license after a deputy noticed him speeding while westbound on CR 274 on Friday night.
After Calhoun County Sheriff's Deputy Nic Keller's indicated the vehicle was going 87 mph in a 55 mph zone, Keller turned around to make a traffic stop.
As he made contact with driver, Steven Ray Swearengin, 39, the deputy noted the strong odor of an alcoholic drink coming from inside the vehicle.
Swearengin, who admitted he did not have a license, also acknowledged that he had been drinking.  He said his slurred speech was the result of two strokes and not the alcohol.  He attempted but was unable to take part in a roadside sobriety evaluation.
When questioned, the driver admitted he could feel the effects of what he had been drinking.  He was taken into custody and after giving two breath samples, an intoxilyzer indicated alcohol content readings of .174 and .181.  The legal limit is .08
He was then booked into the county jail.  He bond was later set at $6,000.