Additional charges filed after deputy arrives with warrant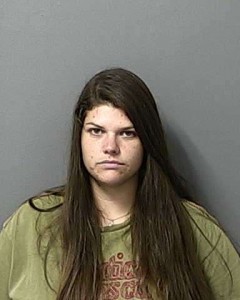 A Blountstown woman taken into custody on an outstanding warrant is facing additional charges after she fled from a deputy and was found in possession of an illegal substance, according to a report from the Calhoun County Sheriff's Office.
Jennifer Grace Farrell, 30, was arrested for possession of methamphetamine and resisting an officer Oct. 11 after a deputy found her at a Cedar Street residence.
Deputy Zachary Whitfield saw Farrell come out of the front door with a basket of clothing.  She walked next door, where she put the basket down and went into the back yard.  The deputy followed, saw her jump a privacy fence and began chasing her through neighbors' yards.
After catching up with her, he placed her in handcuffs and then discovered a substance in her right pants pocket that tested positive for methamphetamine.