After being delayed by Hurricane Matthew, three local missionaries finally get a flight home from Haiti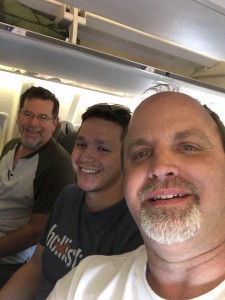 by Teresa Eubanks, Journal Editor
A quick trip to celebrate the 15th anniversary of a church congregation in Haiti stretched into days of "wait and see" as three people from Rivertown Community Church (RCC)  found themselves scrambling for a way home after Hurricane Matthew blew through early last week.
Jeff Vickery said his first visit to Haiti was truly an eye-opening experience.
He and RCC Marianna Campus Pastor Kevin Yoder, accompanied by Cameron Smith, flew to Haiti to take part in the church program and to check on the progress of a new concrete church structure that RCC is helping to build.
They attended services that weekend, with both Vickery and Yoder preaching to a group of approximately 180 people gathered inside a fragile-looking lean to.
When the missionaries arrived they inquired about the storm, but were surprised when local residents seemed unaware of the impending  danger.  "When we asked our translator if they were ready for the storm he said 'what storm?'" according to Vickery.
Their Monday morning flight was canceled and they started looking for other ways home.  For a while, there were none.  Then they found one on Wednesday.  A short time later,  all air traffic was halted.
"Cameron got online and found some Delta tickets for Thursday," Vickery said.  They had no way of knowing if that flight would depart or be canceled like many others.
"The flight was supposed to leave at 7:05 but was delayed until almost 8 a.m. When we got to the airport, the flight crew hadn't even arrived," he said.
They finally got on board and were ready to get home.  "The airplane was packed with people trying to get off the island," he said.  Their late departure caused them to miss their connection in Atlanta where they had to wait around for five hours.  They had gotten up at 3 a.m.  and didn't make home until 6:30 p.m.
"Haiti's kind of in a world of it's own," Vickery said.  "I got on a plane in the U.S. and in one hour and 40 minutes, I was in the poorest country in the western hemisphere."  He said the people have so little and just try to survive during a continual cycle of recovering from natural disasters.  "There's no FEMA, there's no government aid…they just have to do the best they can."
Would he ever return to Haiti?  "Definitely," he said.  "There's too much there to be done."
He said RCC had helped with funding for the group to have the foundation poured and begin the next phase of construction for a new church that should hold 300 worshippers.