Back the Blue… and the red and the green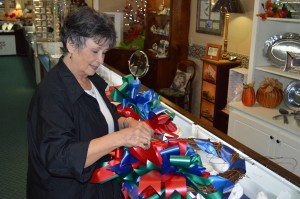 Lynn Strawn, of The Diamond Corner in Blountstown, joined other area business owners and community members in putting up displays to honor those who make it their job to protect the rest of us - law enforcement officers, emergency medical personnel, firefighters and search and rescue volunteers.
People were urged to put up blue ribbons and wreaths to show their support.  She did as well, but added her own special touch with some red and green ribbon.  "I didn't want anyone to be left out," she said, explaining that since blue is primarily associated with police officers, she wanted to include the green for deputies and the red for medical responders.
Her family is especially appreciative of the efforts of local ambulance crews who have been called to her home to see about her 97-year-old mother-in-law, Mildred Strawn, who has experienced several falls including one that left her with a broken hip.  She is shown above putting the final touches on her wreath.  The finished product is pictured at left.
The railing along Lake Hilda on SR 20, shown below,  is  decorated with blue wreaths and the city has placed a larger blue wreath on a float in the water that lights up at night.
DOMENICK ESGRO PHOTOS