Couple accept help from Good Samaritans before stealing credit cards, guns, tools and medication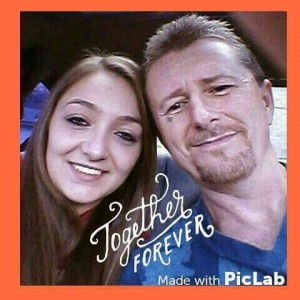 by Teresa Eubanks, Journal Editor
Doug Goodman was in the process of having a new roof put on his old store at Pine Island in Blountstown when a Dodge Intrepid with a rusted fender pulled up and a stranger got out.
Jimmy McCullough, 46,  approached him and commented, "I see you're putting a metal roof on," and they talked a moment.  He mentioned he had experience as a roofer.
Then he told Goodman that he and his girlfriend, Sabrina Hatfield Brown, 27, had no money, no food and had just run out of gas. "We're destitute," he said.
"Son, shimmy up that ladder and show me what you can do," Goodman said.  "He got up there and worked like a trooper for about three hours," he said, who was convinced by McCullough's apparent willingness to work that he should help them.
When they finished work that Saturday afternoon, he told the couple they could sleep in the store that night and said he would loan them an air mattress.
He brought them to his home in Bristol on Peddie Road where he and his wife, Myra "fed them supper at our table," he said.  The 74-year-old man commented, "I'm the son of Marion Goodman, and Marion Goodman wouldn't see anybody hungry."
But then he added, "I didn't know it was a Bonnie and Clyde operation."
•  •  •  •  •
When McCullough showed up on Feb. 6, he told Goodman that he and Brown were headed to Pensacola.  He said they had come from Tennessee and had decided to relocate to Daytona but that didn't work out because "we didn't like the people there."
That same afternoon, a contractor friend of Goodman's stopped by the work site for a few minutes.  Goodman suggested his friend hire McCullough and was told to bring him by later to pick up an application.  He said he could probably go to work by the 10th.
Around the Goodman's table that evening, Brown told them she was trying to get away from an abusive ex-husband who had put her in the hospital several times. She also talked about her nine-year-old son, who was staying with her mother.
After supper, Goodman drove them back to his empty store to stay for the night.    The next day, McCullough did some work for him at his trailer park in Bristol.  Goodman thought the money he was paying the man for his work would be used to get them to Pensacola.
The next few nights, the couple were allowed to stay at a residence on Owens Street in Blountstown that Goodman was rebuilding.  The men worked together that Monday and Tuesday, sharing another meal with the Goodmans' at their home that Tuesday night, Feb. 9.
McCullough was supposed to fill out and return his job application with the contractor Wednesday, Feb. 10,  but never did.  Instead, he called the contractor to explain that they suddenly had to make a trip to Daytona to pick up their tax return.
The Goodmans never saw them again.
•  •  •  •  •
A few days later, on Sunday, Feb. 14, the Goodmans left their Bristol residence to attend church in Calhoun County.
"My brother and his son were going to eat lunch with us so we left the back door open in case they got there first," explained Goodman.
Aware of their Sunday morning schedule, McCullough and Brown arrived at the home after the Goodmans drove off.
Goodman's 91-year-old uncle was in his bedroom, watching westerns on his t.v.  He wasn't aware when the pair slipped into the house.
When the Goodmans returned from church, they saw a pill bottle and a tube of medication had been dropped on the back porch.  Once inside, they immediately realized a large four-drawer plastic container where they stored their medications was missing.  Also gone was a second box which held all their uncle's medicine.  Both Goodman and his uncle depend on heart medication.
A .22 Magnum revolver and .410 single shot shotgun were missing from the gun cabinet.
Tools worth around $2,000 were taken from a truck at the home. They also made off with a toolbox Goodman had owned since he was 16 years old.
The pair were shaken but relieved that their uncle had been left alone.
About an hour later, Goodman's wife suddenly realized something else important was missing.  The purse she had left by her living room chair, which held her identification and credit cards, was gone.
•  •  •  •  •
After reporting the home invasion to the Liberty County Sheriff's Office, the Goodmans started their own efforts to track the couple by calling their credit card companies.
They found their Discover card had been used that Sunday at a Blountstown convenience store.  Later that day, The card was used for $200 in purchases at a truck stop in Cottondale.  Next, an attempt was made at Wal-Mart in DeFuniak for three large purchases but the card was rejected.
"They had a field day in Pensacola," Goodman said, explaining the pair made five large purchases with their Lowe's card.
"Then Myra thought about her Penny's card," he said.  It was used for purchases on Monday in Atlanta.
On Tuesday, Goodman had gone to talk with his insurance company when his wife got a scare.  She saw two large men she described as "looking like wrestlers" standing at the window of their back door.
She wouldn't let them in and immediately called her husband.  He rushed home and discovered the men were bounty hunters looking for the couple.
How did they know to come to the Goodmans?
Turns out Brown had spoken with her mother while they were in Bristol. Her mother, concerned about her whereabouts, told her daughter that her son wanted to send her a Valentine's Day gift. Brown gave her the Goodman's street address.  The mother then passed that information on to the bounty hunters, who had started tracking McCullough four months earlier when he fled from Tennessee.
• • • • •
The bounty hunters caught up with the pair Thursday and are being held in the Campbell County Jail, awaiting extradition on several warrants, according to Capt. Lee Keith of the Liberty County Sheriff's Office.  He said the couple are suspects in crimes in both Calhoun and Liberty County.
An employee at the Tennessee Bonding Company said bounty hunters got a tip and caught up with the pair inside Wal-Mart in Mobile, AL around 4 p.m.  The company had criminal warrants for McCullough on drug and theft charges in Tennessee. McCullough also has previous arrests for theft in multiple counties in Tennessee, according to the bonding company employee.
Keith said they used a scam commonly referred to as a "Trust Game" in which the cons build a relationship with a potential victim. "When they are vulnerable, they clean them out," he explained.
Keith added, "We would like to advise the public that these robberies occurred in broad daylight during church hours."  He urges citizens to always lock their doors when leaving home.
Goodman said he and his ten siblings "were raised to help people." But he ruefully acknowledged that his recent experience  "Is just proof positive that no good deed goes unpunished."
He said he was relieved when he learned the pair were finally in custody.
"He had ample opportunity to stay and get a job," Goodman said.  "He decided to go with crime rather than work."
A friend who heard about the theft asked Goodman if he  "had learned his lesson."  Goodman replied that he would always do what he could to help someone in need but he would certainly be more cautious in the future.