Family waits for word on missing fisherman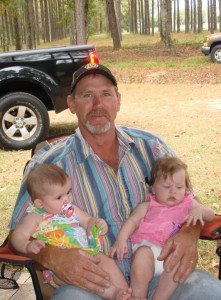 by Teresa Eubanks, Journal Editor
Ray Womble said he was sitting on his doorstep and talking on the phone when Curtis Anders pulled up at the Estiffanulga Boat Landing around 10:30 a.m. Sunday morning.
The men exchanged greetings and joked a bit as Anders, 52, of Bristol, got ready to put his boat in. Womble remained at his trailer about 40 yards from the water as they talked.
"The river was high and it was a warm day," Womble said. "Curtis said he just wanted to get out of the house and fish for awhile."
Anders had a life jacket in his hand as he walked down the ramp to his boat. Womble said he didn't notice if he ever put it on.
He returned to his phone conversation as Anders left the landing and pulled out onto the Apalachicola River.
A few moments later, Womble heard a noise. "It sounded like a boat hitting a log or something," he said. Then he heard something more startling. "I've been on the water all my life," he said. "When I heard that boat rev up, I knew something was wrong."
He ran from the back of his trailer to the landing, looking for his friend. The boat was racing in circles on the water. "He saw me standing in the yard," Womble said. "He started hollering 'Help me, help me, Ray!'" Then Womble spotted him in the water.
"He was probably 150 to 200 yards away, almost halfway across the river," he said. "The boat was on this side of the river."
Womble ran to his trailer and called 911. When he got back outside, there was no sign of his friend.
"As far as he was across the river, I thought he'd be on the bank waiting when I got back," said Womble.
But Anders had disappeared.
"It happened so quick," Womble explained. "It's something that will haunt me the rest of my life."
• • • • •
Womble said he was scrambling to get his own boat when Josh Potter pulled up to the landing with his. He got in the water to search for Anders and found his boots, jacket and ice chest floating in the river, according to Womble.
Anders' family members were alerted and called out of church that morning as rescue workers began heading to the river.
Worried friends and family settled in at the landing for the long wait, hoping for news. Churches and other groups brought food and an RV was brought in to give family members who did not want to leave a place to rest.
As of Tuesday night, he had not been found.
Search and rescue volunteers from Liberty County, Gulf County, Walton County and Bay County have been combing the area while helicopters from the Calhoun County Sheriff's Office and the Florida Wildlife Commission (FWC) fly overhead in hopes of spotting some sign of the missing man.
On Monday, divers from the Bay County Sheriff's Office arrived and began their search, which continued after dark that evening.
Two cadaver dogs have been on the water, according to Liberty County Sheriff Nick Finch. "Both dogs alerted in the same general area," he said, but nothing was found. "The conditions are against us. The problem is the river is so high, the current is so swift and the water is like mud," he said. "You can't see past the surface of the water."
He said the river was estimated to be moving at eight and a half miles an hour. "One of the divers said the temperature at the bottom is around 55 degrees. It's cold, it's fast and it's dirty."
A side scan sonar boat from Walton County was used Tuesday with no result.
Calhoun County Sheriff Glenn Kimbrel said two boats were dragging the river Tuesday and noted that in some spots, the water is 28 feet deep.
Weather conditions could improve, FWC Public Information Coordinator Stan Kirkland said Tuesday. "The water has fallen about a foot since Sunday and the projections are for it to continue to drop through the end of the week." But he cautioned, "There's a front moving this way and we don't know what that's going to mean."
He said more than 50 volunteers have been actively involved in the search, which is focused on a four mile area down from the landing.
• • • • •
Anders and his wife, Donifan, celebrated their 25th wedding anniversary last April. He worked with C.W. Roberts Construction for a number of years and recently moved to a job with Roberts & Roberts Contracting.