Liberty Co. Sheriff Nick Finch arrested; FDLE special agent to be interim sheriff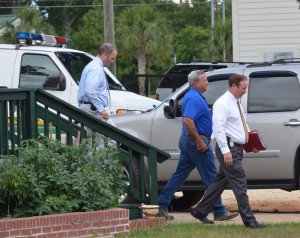 Inspectors with the Florida Department of Law Enforcement Office of Executive Investigations obtained a warrant for the arrest of Liberty County Sheriff Finch, 50, of Bristol, Fla., earlier today on one count of official misconduct, a violation of section 838.022, Florida Statutes.
Investigators allege that Finch destroyed or removed official arrest documents from the Liberty County Jail, making it appear as though an arrest never occurred.
The investigation revealed that a Liberty County Sheriff's Office deputy arrested a Liberty County resident on March 8, 2013 for carrying a concealed firearm, a third degree felony. Shortly after the suspect was booked into the Liberty County Jail, Finch allegedly released the suspect and altered or destroyed documents associated with his arrest.
Finch was arrested just after 5 p.m. today and was booked into the Liberty County Jail. He was released on his own recognizance.
Finch was elected Liberty County Sheriff in 2012.
The State Attorney's Office, 2nd Judicial Circuit will prosecute this case.
• • •
Governor Rick Scott announced the appointment of Carl Causey as Interim Sheriff of Liberty County.
Causey, 53, of Gulf Breeze, has been the Assistant Special Agent in Charge for the Pensacola Region of the Florida Department of Law Enforcement since 2010. Previously, ASAC Causey served 11 years with the Escambia County Sheriff's Office where he worked in patrol and investigations. Causey served as an agent in the Sebring Field Office of the Florida Department of Law Enforcement from 1993 to 1996, and as an agent in the Pensacola Regional Operations Center from 1996 to 2007. In 2007, he was promoted to Special Agent Supervisor over the Major Crimes Squad. He received his bachelor's degree in criminal justice from Troy State University.
Governor Scott said, "I am confident that Carl Causey will serve the families of Liberty County well during this interim term."
Causey replaces suspended Liberty County Sheriff Nick Finch, and is appointed for a term beginning June 4, 2013, and ending July 4, 2013.