Catfish Crawl 5K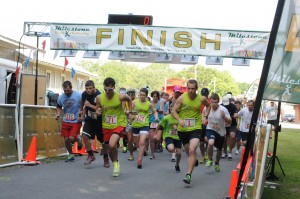 Folks of all ages and ability levels took part in Saturday's Second Annual Catfish Crawl in Blountstown. One hundred and twenty-five runners came from all over to participate. The event raises money for the Blountstown Fire Department's Scholarship Fund, which sends a high school senior to the Florida Firefighter Minimum Standards Academy each year. This year's event was made even more significant due to the untimely death in a traffic accident of 17-year-old Ryan Flowers, who would have been a future scholarship recipient. His death has inspired others in the community to raise funds to train more young firefighters and emergency workers.
Billy Naylor took first place overall in the male division of Saturday's Catfish Crawl with a time of 16.37 while Hanna Plazarin was the top female runner, with a time of 23:44.
The Overall Male and Female Masters winners were Trainer Mark McCarra and Lydia Trevino Miles.
The full list of winners can be viewed online at www.blountstownfire.org.
"Times were fast," said Blountstown Fire Chief Ben Hall, who is one of the annual event's organizers. "All runners came in under one hour. Over half the field was under 30 minutes."
The run follows the scenic
Blountstown Greenway
for 3.1 miles.