Woman charged with assault with a deadly weapon after taking rifle, threatening ex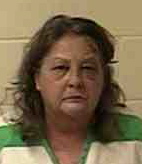 ESTIFFINULGA - A Bristol woman who was described as "ranting and raving" and intoxicated was arrested after she allegedly went to her ex-boyfriend's home, grabbed his rifle and threatened to shoot them both, according to a report from the Liberty County Sheriff's Office.
Capt. Wes Harsey and Capt. Tim Partridge, along with several deputies, responded to the 911 call that came in just before 7 p.m. on Feb. 26.
They arrived to find the complainant in his yard. He told them 57-year-old Mary Bowen had fled on foot and left the rifle behind.
The man said he answered the door when he heard someone knocking because he was expecting a friend to drop by. He opened it to find his ex-girlfriend, who then walked into the home. He said he urged her to "keep things peaceful" and "just leave me alone." He said she was yelling at him and as things escalated, she reached over and grabbed his rifle. The man told deputies he knew the rifle was not loaded but was aware Bowen kept ammunition in the console of her truck.
He said she threatened to shoot him and then turn the gun on herself. He said she walked out of the house with the gun. He locked the door and called a friend, who then called 911. His friend then came to his home and the two men walked outside to look for Bowen, who was not in sight. The gun was left at the door.
The man stated that he didn't know what she was going to do and was in fear for his life. He repeatedly told deputies that Bowen "needs help."
A half-empty case of .22-caliber ammunition was found in the console of Bowen's truck, which was left at the scene.
Bowen was taken into custody after deputies found her standing on C.R. 333.
Investigators were unable to interview her at the time due to her level of intoxication, according to the report.
Bowen was charged with assault with a deadly weapon without intent to kill.
She is being held on $10,000 bond in the Liberty County Jail.