Bigfoot researcher talks with students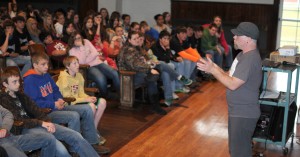 by Teresa Eubanks, Journal Editor
Whether or not you believe in Bigfoot, you can be sure of one thing: Tyler Bounds loves his job.
"I'm getting paid to go around the country to camp with friends to go look for Bigfoot," he says.
Although he's listed as a production associate in the show credits for the Animal Planet program "Finding Bigfoot", he says his actual job is as an outdoor tech. He puts together the tents, the tools and the cooking equipment before they head into the woods.
He's the guy who accompanies one of the show's key members when they do their solo overnighter in the woods looking for evidence of the mysterious Sasquatch. While they're walking around in the dark, wearing night vision goggles and armed with a recorder in hopes of catching a Bigfoot howl, Tyler is following behind with a thermal camera.
And last week, he was the guy who went to talk to the kids at Hosford School.
• • • • •
The response from the sixth, seventh and eight-graders he met was "amazing," he said.
He was set up to give his computer presentation, with video clips, photos and other information about the show when he stepped in front of the group last Thursday morning at the school.
"I was five minutes into it and the hands started going up," he said. "I pretty much abandoned my presentation and started answering questions."
The students wanted to know what he had seen and what he thought about the possibility of "Bigfeet" roaming the nation's backwoods. Bigfoot believers think there are hundreds, if not a few thousand of the elusive creatures thriving across the country.
"There were some great questions," he said. "One girl asked a couple of questions that got me thinking." The student wanted to know that if the Bigfeet were so adaptable to different terrains, weather and ecosystems, why aren't they proliferating and why aren't we seeing them?
"That was an eye-opener," he said. "It got my brain stem fired up."
Three students, including the girl who asked that question, were invited to attend last night's Town Hall meeting held at the Wesleyan Church in Hosford. The Town Hall meeting is a segment featured on each "Finding Bigfoot" episode where people share their stories about alleged encounters.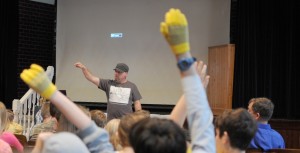 Participants are required to sign non-disclosure agreements before taking part in the meeting. The show crew does not like to talk about the content of the episode they're filming or even discuss where they're filming while in town.
Tyler was welcomed by a big banner when he arrived at the school. "The kids loved him," said Hosford Science Teacher Jason White, who arranged Thursday's program.
"Four students said they had family members who had encounters," White said. Tyler encouraged them to ask their relatives to come to the Town Hall meeting to share their stories.
• • • • •
"Finding Bigfoot" is about presenting witnesses' stories and looking for evidence to prove that these mysterious creatures exist. The crew includes resident skeptic, field biologist Ranae Holland. She, along with Matt Moneymaker, Cliff Barackman and James "Bobo" Fay, travel the country to talk with people about their encounters with Bigfoot-like creatures.
But long before he met the crew two years ago while they were filming an episode in Georgia, Tyler had his own Bigfoot encounter.
The 41-year-old Washington State resident recalls a hiking trip he took with his father and grandfather in Northern California. He was only four or five years old.
"We saw two of them," he said. "There was a big one and a little one that crossed the path in front of us," he said. His grandfather, who died a few years later, made casts of the footprints. "I remember seeing the casts. He leaned them up against a building (at his home)." Years after his grandfather's death, Tyler went to his grandmother in search of those casts but no one knew what had happened to them.
That experience left him with a lifelong interest in Bigfoot. He joined the Bigfoot Field Research Organization (BFRS) and went on his first expedition with them in 2009. The BFRS was founded in 1995 by Matt Moneymaker to collect evidence in an effort to solve the mystery of Bigfoot. Much of the group's work involves debunking the many hoaxes based on Bigfoot legends.