Wakulla man stabbed at party in the woods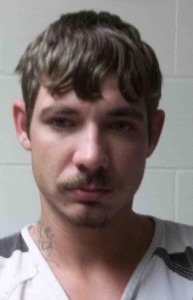 One man was hospitalized and another was arrested for allegedly pulling a knife and cutting him several times when seven people from Wakulla County gathered to celebrate a friend's birthday at Three Bridges Campground in Liberty County last week.
The group had been fishing and drinking on Sept. 3 when two brothers, Eddy Hartsfield and Dillion Hartsfield decided to have an Ultimate Fighting Championship (UFC)-style fight, according to the arrest report.
Shaun Haddock, 26, said that when he told the brothers he didn't want to fight, an argument ensued which led to an altercation.
Haddock said Eddy Hartsfield pulled a knife and attempted to cut him. As the two struggled, Haddock was stabbed behind the left ear, cut on the right index finger, stabbed on the right elbow and had a cut to the right of the shoulder blade. The reported noted he also had a stab wound to the lower left abdomen which did not appear life-threatening.
Haddock's sister later told the Liberty County Sheriff's Office that her brother and Hartsfield got into a fight over a girl. She said her brother punched Hartsfield and Hartsfield then stabbed Haddock six times. She said after that, the other men at the party gathered around her brother and started beating and kicking him.
She stated that her brother walked 15 miles to a convenience store at the intersection of Hwy. 98 and Sopchoppy Hwy. for help, where he found a Wakulla County Sheriff's Deputy.
After giving a statement, Haddock went home but the next morning was taken to the hospital to be treated for his injuries.
Eddy D. Hartsfield was charged with aggravated battery with a deadly weapon. He is being held on $10,000 bond in the Liberty County Jail.