Gator tips boats and takes hunters for a ride First-time alligator hunter lands 13-foot, 900-lb. monster on the Apalachicola River
Justin Ranew admits he felt kind of bad about not telling the truth to Blountstown Police Chief Rodney Smith last Wednesday night.
The two met in passing on the Apalachicola River, where both were on the lookout for alligators.
Smith is a longtime gator hunter and knew that Ranew, 26, was on his first hunt. Before this night, Smith had answered Ranew's many questions about how to catch an alligator and had given him plenty of advice.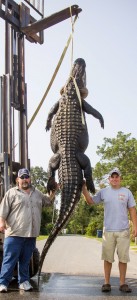 Ranew had to do some quick thinking when Smith pulled up to his boat and kidded him and his hunting partner, Tommy Davis, 43, about being so close to the bank. "Are y'all gator hunting tonight or all y'all floundering?" Smith joked. Ranew replied that he had pulled near the bank to make a cell phone call. Smith was soon on his way and Ranew and Davis turned their attention back to the monster-sized creature lurking nearby in the dark water.
"He had no idea we'd been messing with a gator for hours," said Ranew, adding, "I hated not to tell him the truth…but he would have come back the next night and got it."
'LEARNING' THE GATOR
Ranew and Davis each drew two tags each in the Florida Fish and Wildlife Conservation Commission's (FWC) annual statewide alligator harvest. Both work together at Big Bend Bait and Tackle in Blountstown, where they've heard plenty of tales from other hunters going after the tough-skinned creatures that inhabit the river.
Ranew admits his mother, Ann Ranew of Clarksville, wasn't as thrilled as he was when he got his two tags. "She was worried I'd hit a stump," he said.
But a collision with a stump would be the least of anyone's worries after seeing the huge creature they went after. They worked for six hours the first night to "learn" the gator and to determine the best way to take him. After hearing Ranew's story of what happened that second night, one might think the gator was actually teaching him a few things.
Davis said his friend's first gator hunt was "a once in a lifetime" experience. "I've killed some gators before, but bar none, this was the most exciting hunt I've ever been on," he said. The first night they spotted their target, "I knew he was big," Davis said, but when they finally got him out of the water they were surprised to have a 13-footer. Even after a day in the cooler, the gator weighed in at 900 pounds. The men were told by an area wildlife meat processor that the gator could have been 100 years old.
FIRST NIGHT ON THE RIVER
They got off work at 6:30 p.m. and were on the river in a 16-foot aluminum boat by 7 p.m.
The men located the big gator around 10 p.m. on Wednesday night, Aug. 15 near Mason Sandbar, about a half mile from the Blountstown Boat Landing. "All these gator hunters were driving right past me," Ranew said.
He admits that night "was kind of scary." First, they worked some smaller alligators and observed how they reacted differently to spotlights and calls. Once they found the big one they wanted to go after, they learned he would respond to a call but would disappear under the water when the spotlight hit him. He seemed as interested in them as they were in him. They were about 30 yards from the bank when he rammed their boat twice, hitting it from the bottom. "That kind of worried me," Ranew said.
They would get up river and shine him to get his  location but each time the beam caught him, the big gator submerged.
They were sitting still in the dark, waiting for their prey to reappear when they heard an odd noise. "I thought I'd mashed the button on my trolling motor," Ranew said. Then he looked over the bow of the boat and saw the gator staring back at him. The noise - which he described as " kind of a humming sound" - was coming from the gator.
"I had my crossbow ready. Tommy was going to let me shoot first," Ranew said. But each time he tried to spotlight his location, the gator slipped from view.
"There was a very bright glare of moonlight on the river," he said. "We could see him coming at us in the moonlight before we could turn the light on. He'd see me standing up and go under."
After working the gator for six hours, the two went in to rest up for another night on the river.
BACK FOR A SECOND TRY
The second night both the hunters and the gator got bolder.
The big gator responded to Ranew's call, a noise he described as his effort to "sound like a baby gator."
Davis got a better look at their prey and exclaimed to Ranew, "That thing's huge!"
"We knew not to stand up in the boat or turn on the light until we were absolutely ready to shoot," Ranew said.
The gator approached but each time, the boat kept floating over him. And then the gator stopped the boat.
"He actually picked the side of the boat up and held it there for 30 to 45 seconds," Ranew said. "We weren't moving and, I'm telling you, he would not leave."
The gator finally let the side of the boat down but held his position. "Tommy, he's under the boat," Ranew said.
And then it got a little weird.
"He stayed under the boat and started vibrating," Ranew said. "He was shaking his whole body as he was touching the bottom of our boat. Bubbles were coming up on both sides of the boat. I was freaking out."
The gator was doing a "water dance," a descriptive term for what happens when big reptiles bellow and create subsonic vibrations causing the water to shoot up around them.
Midnight was approaching and after putting in 12 to 13 hours working this big gator, Ranew said, "It was on!"
Ranew saw his chance and took a shot, landing an arrow in the side of the gator's jaw. "I hit him and he took off," he said. "He's pulling the boat up river like we're nothing. It was insane," he said.
"I was trying to grab the harpoon to put another line in him but we needed some more hands," he said. A cell phone call brought Toby Garnett and Mike Johnson, who were also on the river that morning, to their side.
A second line went in. Garnet held one; Davis had the other and they started pulling the gator in so Ranew could hit it with a bang stick firing .357 bullets. "He was fighting," Ranew said. "It took six shots before it even slowed him down." Davis was worn out after hanging on to the first line for an hour and a half, Ranew said. "Thank goodness we had Toby and Mike there."
A NEW RESPECT
They got the gator in the boat and by 3:35 a.m., had him in the walk-in cooler at Big Bend. They broke a winch while moving the massive animal.
Word spread quickly about their catch, bringing so much traffic to the store they had to block off the road, Ranew said. "There must have been 150 to 200 people stop by to see it."
The experience has left Ranew with a respect for alligators. "They're just magnificent creatures," he said. "I never expected it to be like that," he said. "The way that one acted… he was smart," he said.
"Even though I did kill him, it makes me appreciate nature and animals more," he said. Nothing will go to waste. "We're using every part on that gator," he said, explaining that he will share the meat, the front of the gator will be mounted and the remaining hide will be used.
He said the hunt was "the craziest thing I ever did."
And he can't wait to do it again.
———
According to FWC, the Florida state record for length is a 14 foot 3-1/2 inch male alligator from Lake Washington in Brevard County. The record for weight is a 1,043 pound (13 feet 10-1/2 inches long) male from Orange Lake in Alachua County.