Justin Gatlin wins Olympic Bronze in 100-meter dash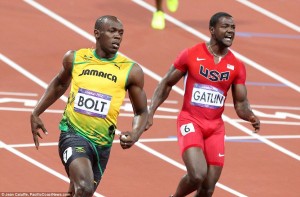 by Teresa Eubanks, Journal Editor
When Justin Gatlin crossed the finish line of the men's 100-meter dash during the 2012 Olympics in London this week, he got more than the bronze medal - he got a little redemption.
Gatlin made a name for himself when he won the gold medal for the men's 100-yard dash in the 2004 Olympics in Athens, Greece. That victory was tarnished by allegations of doping, which he has steadfastly denied, but it resulted in a suspension that kept him from competing in the 2008 Olympics in Beijing.
He returned to Olympic competition in this year's London games and on Aug. 5, took the bronze medal in his event, which is being called the fastest heat in the history of the Olympics.
Jamaican runner Usain Bolt took the gold in that race with a new Olympic-record time of 9.63. His teammate, Yohan Blake, earned the silver medal with his time of 9.75. Gatlin had a personal best, coming in third at 9.79, according to NBCOlympics.com.
"At this moment in time it was probably the dream race. It was a great race and I think there are even better ones to come," Gatlin said.
"It just feels good to be back," Gatlin said. "I'm here — another eight years later. My road and my journey coming back — I've been through a lot," referring to the challenges he faced with his long absence from Olympic-level competition.
"Gold is gold. Bronze is bronze," the 30-year-old runner said. "But the story that comes behind this bronze … speechless. It means so much to me. I'm glad to be here. I have a lot left in the tank."
"He didn't have to win a medal to prove anything," said Gatlin's cousin, Charles Gatlin of Tallahassee. "He not only proved to his critics that he wasn't a sprinter of the past but that he could run with the guys of the present. The bronze medal quieted his critics and made believers of the doubters."
He added, "This was the true return of Justin Gatlin to the world. He's back!"
Many years before he set foot on an Olympic track, a grade-school age Justin Gatlin loved to run. He would challenge neighborhood kids to foot races along the streets of Blountstown when he came to visit his grandparents, Willie and Bessie Gatlin, at their Palm Street home.
Charles Gatlin credits his cousin's successful comeback to one thing: "He won when he refused to give up on his dream.