Family and friends gather to honor Grady Lou Nichols on 100th birthday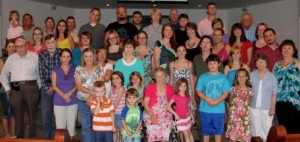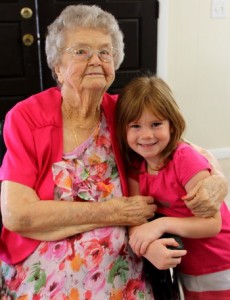 There's no way to accurately count up the meals she's cooked and quilts she's stitched, but as she nears her 100th birthday, Grady Lou Nichols fondly recalls doing those things for the family she raised in Calhoun County.
And she had a lot of family to do for.
She and her husband, Ernest, had six children. He died in the late 1980s. Their eldest son, Broward Nichols, and youngster daughter, Linda Menefee, have also passed away. Her surviving children include Hazel Swearingen, 82, of Panama City; Louise Jordan, 80, of Marianna and two sons, Glenn, 73, and Willard, 68, who live next to the home where they were raised near Clarksville.
While the rest of the family has to keep it written down to keep the numbers straight, she's quick to rattle off her list of descendants. There are 17 grandchildren, 22 great-grandchildren and 13 great-great-grandchildren.
"It's quite a bunch," she said. "I love them all."
Approximately 100 relatives representing five generations gathered at Poplar Head Baptist Church, about one mile north of Clarksville, for a party in her honor on Saturday. There she held court, greeting old friends and catching up with her fast-growing great-great-grandchildren, including five-year-old Cassidy Frusha. "Scratch Cat Grandma" is the name the little girl started calling her after hearing about a black and white kitten at Miss Grady Lou's home that had a bad habit of clawing visitors.
She got married on June 16, 1929, just three months after meeting Ernest Nichols. He brought his 17-year-old bride from her Marianna home to the Clarksville area to set up housekeeping. He and a friend helped each other build their wood-frame homes. Theirs was ready by November of that year.
"It had three bedrooms," she said. "One for the boys, one for the girls and we had one."
They were together 68 years and she remained in that home 86 years. Just a few months ago, family members convinced her to spend some time at Blountstown Health and Rehabilitation Center, where she could get around-the-clock care.
"My health is pretty good for my age," she said, explaining that she likes to get out and about at the rehab facility. "I still go all over the building with my wheelchair and my walker." She enjoys playing Bingo with the other residents and has done a little painting during craft classes.
A doctor once asked her what was her secret to living so long and staying so well. Her reply: "I told him I thought it was clean living. I never smoked, never drank and tried to eat right."
But with a little prodding, she did admit to having a little alcohol once when she was 15 or 16 years old. "It was just a taste," she explained. "Not enough to have any effect."
Her deteriorating eyesight has ended one of her greatest pleasures: reading. When she wasn't cooking, cleaning and caring for children, she loved getting lost in a book. "If I ever sat down, I had a book in my hand," she said. "Oh, I did love to read."
"The Great Tide" by Rubylea Hall is her favorite book. "I'll tell you it was the best book I ever read," she said, adding, "I've read it twice."
The novel, published in 1947, tells the story of Florida plantation life in Port St. Joe in the 1830s and 40s.
"It's about a ship that they forbid to come ashore because they had yellow fever," she explained. "But one swam ashore and just about everybody in St. Joe died." She recalled how the book's heroine put her sickened husband in the back of a wagon and left the area. "The book told about them stopping at an Indian reservation in Blountstown and spending the night at the Gregory Mansion (now located at Torreya State Park) before they made it to Greenwood." There were many familiar names of Jackson County families that she recognized mentioned in the book, which she said, "made it a lot more interesting."
Quiltmaking was a constant in her life for years; it was a necessity in the days before heating and air conditioning and was a traditional wedding gift for the children and grandchildren.
"Back then, you had to have quilts to stay warm. You had to have at least three quilts on the bed on cold nights because there was no other heat in the house."
She made quilt tops out of "little tiny" scraps of material. Her favorite pattern was one called "Flower Garden" which featured a bloom on every panel. "Every piece turned out to be a flower and you had to put them together," she said. "It taken (sic) a long time to do them but they were worth it." Many of those have been handed down to succeeding generations of her family.
Her family enjoyed the many treats she baked and scooped up platefuls of the smoked pork that wound up on the grill. The kids worked in the garden, which was filled with greens, beans, peas and okra. "We always had plenty to eat," she said. "We just enjoyed being together and being happy."
How did she meet her future husband? "His first cousin married my sister. He went to their house one Sunday but they were at my father's house and he came over there."
To what does she attribute their long marriage? "I guess we loved and trusted each other," she said.
"He turned out to be a Baptist minister and preached in churches for 45 years," she said. He was called to several different churches but early on they decided that Poplar Head, less than a mile from their house, would be their home church. When he was off giving sermons elsewhere on Sunday, she and the children were in the pews of the little church which still sits along Hwy. 73.
And Saturday, she was honored in that very church, surrounded by friends, family and a special yellow-frosted cake with three candles marking her first century on earth.