At age 90 & 91, these two veterans have a few stories to tell about their wartime experiences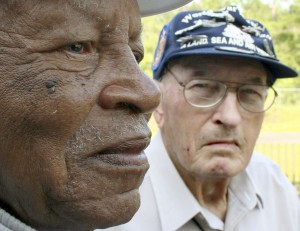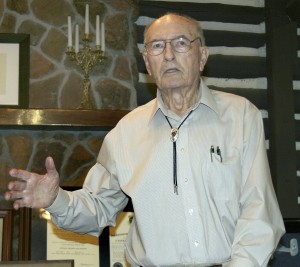 STORY AND PHOTOS BY PHIL COALE
The Panhandle Pioneer Settlement opened its doors Friday night, July 6 to two American Heroes as the Settlement hosted Senior Master Sgt. James Ayers and Tuskegee Airman Sgt. Cornelius Davis, both retired, to tell stories of their lives including military service to their country.
Ayers, 90 and Davis, 91, both from Calhoun County and part of the Smithsonian exhibit, "Journey Stories," shared their experiences with an audience of 30 of what it was like to be soldiers in both World War II and Vietnam.
The Museum on Main Street program is the Smithsonian Institution Traveling Exhibition Service's key initiative that directly engages small town audiences and brings attention to under served rural communities through their own Main Street museums, historical societies and other cultural venues.
The Museum on Main Street circulates Smithsonian exhibitions focusing on broad topics of American history and culture, such as Ayers' and Davis' experiences. Exhibitions are organized around elements of our shared American experience, helping to host organizations who explore cultural attributes that bind us as a nation. All exhibitions display original artifacts that hold historical value to the area chosen to host. Small town participants add hard work, ambition and a sense of fun to the events.
Calhoun County's contribution to the Journey Stories began as Ayers and Davis were introduced. Their animated tales hold great historical value for our country.
Davis was first at the podium telling of his experience as one of the famous Tuskegee Airmen. The group was the U. S. War Department's experiment to prove African Americans were capable of being military pilots.
At a young age, Davis watched newsreels of war planes in action and was hooked on aviation. Davis recalled that one of the newsreels showed a plane dropping a bomb on a target, blowing it to pieces. "Right away," Davis said, "I wanted to make sure I was the one dropping the bombs."
So, ahead of being drafted, Davis joined up and found himself on the way to Tuskegee, AL and basic training. After a stint in an armament school in Colorado, he returned to Tuskegee. He was assigned to teach pilots weaponry and how to shoot down enemy planes as well as drop bombs on their targets. He was especially proud that the Tuskegee Airmen never lost a single bomber they were to protect while on their missions, a testament to his teaching the pilots how to shoot.
After his military service, Davis became politically active in Michigan, helping various candidates get elected. He worked for a newspaper as a photojournalist and was active in the Tuskegee Airmen's annual career week which introduced students to aviation.
Ayers followed Davis to the podium to share his experiences in the military, including 17 years and 8,000 hours as a flight engineer on the B-25 bomber with the 11th bomber squadron. His squadron with the 14th Air Force flew combat missions over Japanese-occupied China, bombing various targets. His duties while on missions over the target were as a waist gunner. "I never got a confirmed kill," Ayers lamented. "I had some probable kills but those don't count." He added, "We got shot up a lot but never shot down…We crashed landed three times with mechanical problems but the enemy never shot us down."
Ayers began his military career Jan. 19, 1942 when he enlisted in the Air Force and was sent to Jackson, Mississippi for basic training. He left the service in 1945 but re-enlisted in 1948.
The last four years of his time in service he spent as a crew member that flew support missions on the C-133 cargo plane out of Dover, DE to South Vietnam. Ayers ended his career May 1, 1967 when he retired for good.
Upon retirement Ayers returned to Tallahassee and went into the construction business and eventually, the long-haul trucking business with his wife of 66 years, Dorothy. In 1977, the Ayers' moved to Blountstown where he still resides today.
The exhibit is promoted by the Florida Humanities Council which chose the Settlement to host the event. Along with their stories, Ayers and Davis brought artifacts they have collected through the years. They will be on display from July 14 through August 25.