Bristol 12-year-old wins Wewa Fishing Tournament with 35.03 flathead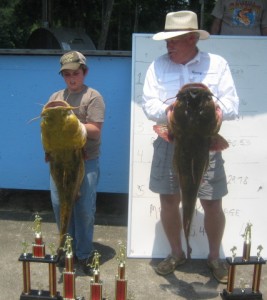 There may have been 70 anglers taking part in last weekend's fishing tournament in Wewahitchka, but a youngster from Bristol put 'em all to shame after he collected four trophies, four checks and a pile of big flathead catfish.
It must have been a heck of a ride home to Bristol for 12-year-old Blake Shuler after he and his dad, Parley Shuler, III, 49, took part in the Eighth Annual Gaskin Park Flathead Catfish Tournament in Wewahitchka this past weekend.
Not only did Blake win, he took third and fifth place as well as pulling in the most poundage for the two-day tournament with 125.48-lbs.
His arms were so full of trophies at the end of the event that when he was called up front to collect his winnings, organizers had to stuff the four checks under his hat, according to his dad.
Blake went home with $1,850 in prize money, including $1,000 for first place, $400 for third place, $200 for fifth place and $250 for most poundage.
All his wins only left only two other spots on the board.
Henry Hamlin of Bristol took second place with a flathead weighing in at 34.16 pounds, earning $500.
Alabama angler Gary Brown took fourth place, winning $300 with a 30.53 pound flathead. It was his first time flathead fishing. Brown, who was staying at the Dead Lakes campground just north of Wewahitchka, got interested in the tournament a week earlier when he saw a flathead caught by a Tampa man.
The weight of Blake's six fish edged out another long time fisherman, Jamie Lee of Calhoun County, who caught 12 flatheads for a total of 100.32 pounds
An avid fisherman since the age of four, Blake has placed in two of the Liberty County Senior Citizens Fishing Tournaments and previously won most poundage in a Blountstown tournament.
• • • • •
Blake and his dad spent 20 hours on the water but it was the very first fish he caught that turned out to be the biggest of all at 35.03 lbs.
The tournament started at 4 p.m. Blake caught his winning flathead at 7:30 p.m.
His dad was going after a fish just before Blake made his big catch. Shuler had a bite and they moved the boat a bit for better position. The boat drifted close to the bank and then the wind hit it, sending it back out. "Then we decided to move over to fish for the one I missed," Shuler said. Then Blake said, "Daddy, I'm hung up." When his father looked over, he saw the rod was being tugged toward the water. Blake knew then he wasn't stuck; he had a big one. "Oh, this is a good one! This is a good one!" he said as his father guided him to move closer to him in the boat. When he pulled the 35.03-lb. fish up from the water, his father grabbed it with his hands. "We're in the money now," his dad told Blake.
They realized they had a likely winner but kept fishing. "If you ever watched him fish, you would understand," Shuler said of his son's devotion to the sport.
He said he and Blake are competitive when it comes to fishing, although admits their results in this tournament were at opposite ends of the spectrum. Dad only caught one fish - a 15-to18-lb. flathead. "I'm fishing in the same boat and I didn't do that good," he said, but he was trying. "I don't sit back and not fish. I fish hard when I'm out there and he does too."
Most of the night they sat quietly in the boat, listening to owls in the trees and watching alligators glide through the Apalachicola River. They strategized about where they should put the boat and redid their lines after getting hung up several times. "Your mind's steady working," said Shuler, explaining how they continually question if they should move and try another hole or stay put in one place all night.
Around 3:30 a.m. Saturday, Shuler - who was still trying to catch his only fish of the tournament - looked over and saw that his son had fallen asleep. "And he was sitting on three 30-pounders," his father said. But after securing the biggest fish of the tournament, along with two big runners-up, Blake could afford to get a little nap time.
Blake is the son of Parley and Jonette Shuler. His grandparents include John Baker, Hilda and Roy Pippin, the late Tommy Varnum and Ruby Lee and the late Jerry Wade Shuler.
• • • • •
Flathead catfish are not native to Florida and can be caught using live bream as they are a predatory catfish rather than a bottom feeder. The meat is white and excellent eating even though the fish itself is pretty ugly. Flatheads are harvested from the rivers since they are not native. There are no bag or size limits in Florida. The present Florida record flathead catfish is 51.05 pounds according to the Florida Wildlife Commission and was caught in October 2011. The previous Florida record from 2004 was 49.39 pounds. Anglers will be trying to break that record September 28 and 29 for a $50,000 prize at the Florida Catfish Classic tournament (#4 of this series).
• • • • •
The Gaskin Park Flathead Catfish Tournament is the second of four in the Apalachicola Flathead Catfish Tournament Trail for 2012. The tournaments take place on the Apalachicola and Chipola Rivers in the Bristol/Wewahitchka area of the Florida panhandle every year from April to September and fishermen come from all over Georgia, Florida, Alabama and Tennessee to tackle a great freshwater sport catfish. The tournaments run for 20 hours from Friday at 4 p.m. to Saturday at 12 p.m. with anglers bringing their catches to the scales all night long. The leader board can change every few minutes as the fish come in. All fish must be at least 14 inches and alive to be weighed. In addition to the monetary prizes, the winning fishermen receive trophies. All entries in the tournament receive tickets for a chance at various door prizes as well.
The next tournament in the Trail is the second annual Gator Classic Aug 24-25, benefiting Project Graduation for Wewahitchka High School. For registration forms, contact Dennis Peak at (850) 340-1029, visit the tournament website at "www.FloridaCatfishClassic.com" www.FloridaCatfishClassic.com , or contact Wewa Employees Club at (850) 639-2605.