FWC seeks assistance in the case of an illegal deer killed in Liberty Co.
Friday, June 8 around 6 p.m. a doe deer was killed and then dumped in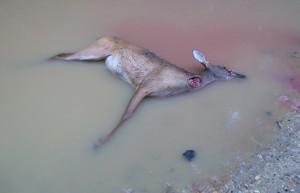 to a manhole near the Hwy. 20 bridge in Liberty County.
According to FWC Lt. Harry Parker, there were several people in the area when the incident occurred. There is a possibility that a white Z-71 pick-up truck with three individuals in it have knowledge of what happened. The truck is described as a 98-99 model, with an extended cab and short bed.
The driver is described as a short white male, approximately 5:6" to 5:8", slightly heavy with short brown hair and probably in his late teens.
One passenger was described as a tall white male with long dark brown hair, who is also in his teens.
The other passenger was a white female.
We feel confidant that someone in the area may recognize the individuals from the above description.
We are requesting anyone with information, to call our toll free number at (888) 404-3922 and we in turn will contact them. Anyone with information may remain anonymous if they wish.
This violation is of a concern because not only was an illegal deer killed during a closed season, but it was then simply discarded.