Gov. Scott comes to Blountstown for a 'rural roundtable' on Monday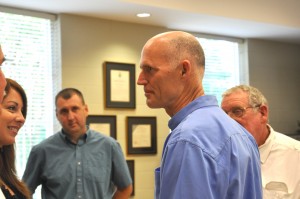 The Heritage Room of the Blountstown Library was the final stop on Gov. Rick Scott's roundtable tour to discuss local economies with rural leaders Monday.
The governor visited five counties and listened to some strong suggestions as well as criticism from people who have their own ideas on improving their area's economy. In turn, Scott urged everyone to get more involved by learning more about what can be done and bringing that information to their representatives.
Approximately 30 people took part in the 4 p.m. gathering in Blountstown, including county elected officials, business owners and concerned educators.
School Board member Kelly King brought up the controversial FCAT and told Scott, "FCAT has been a four-letter word since I got on the board." Scott and Florida Education Commissioner Gerald Robinson, who accompanied the governor on the tour, listened to her concerns over the impact of the new grading guidelines. The governor echoed a question that highlights the dilemma of today's educators: "How much time should we spend testing instead of teaching?"
•Among the business owners expressing concern about the cost of doing business was Realtor Danny Ryals, who said his insurance had gone up 65% after 27 years despite never filing a claim.
•Johanna Plummer of Blountstown Drugs told the governor about a recent study showing there were no significant differences between mail order pharmacies and traditional pharmacies. She suggested that information be considered by the statewide healthcare system.
•Mary McKenzie of Oglesby Nursery in Altha pointed out the effect of the minimum wage in areas like the panhandle. "It's not feasible for a small business to keep people on…there needs to be a cap on the minimum wage."
"Florida has a high minimum wage law," the governor noted. "It will take a constitutional amendment to fix it and it will be difficult."
Calhoun County Clerk of Court Ruth Attaway told Scott that she did not like that the auditing ability of the county clerks had been taken away and added, "I'm also uncomfortable with unfunded mandates." She pointed out, "A small cut can make a big difference in the smaller counties."
She also told the governor that she was concerned over the state's attitude toward libraries. "Counties like us have so few resources and so many needs," she said. "I would really like to see a different attitude toward libraries at the state level."
The governor concluded with, "If we want more money to solve our problems, we've got to grow the state."