Contestants advance to the 2013 Miss Northwest Florida Pageant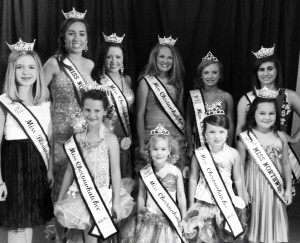 Several young ladies vied for the chance to advance to the 2013 Miss Northwest Florida Pageant this weekend at the Miss Choctawhatchee Pageant held at the Holmes County Agriculture Center in Bonifay.
Winners include Miss Choctawhatchee, Alexandria Watson; Teen Miss Choctawhatchee, Faith Padgett; Junior Miss Choctawhatchee, Annika Milligan; Little Miss Choctawhatchee, K'Leigh Kitchens; Tiny Miss Choctawhathee, Kara Stewart; Toddler Miss Choctawhatcee, Katelyn Foxworth.
The winners from this weekend's pageant are pictured with the reigning Miss Northwest Florida, Little Miss Northwest Florida, Teen Miss Blountstown, and Teen Miss Calhoun County.
Miss Choctawhatchee is a preliminary to the Miss Northwest Florida Pageant held annually in Panama City the first weekend in November. The next scheduled preliminary is Miss River City which will be held July 21at 2 p.m. (CT) in the Blountstown Middle School Auditorium. Deadline to enter is June 30 and the entry fee is $65.
Any girl who lives in Northwest Florida, attends or has graduated from an accredited Northwest Florida school, has never been married, or never been pregnant is eligible for this Pageant. Attire is short pageant dress for Baby-Little Miss and long pageant attire for Junior-Miss.
One winner will be crowned in each division. A minimum of four contestants is needed in each age division in order to have the division. Misconduct by contestants or parents will not be tolerated and can lead to disqualification by the director, Robyn Parrish-Hill. All proceeds raised from this event will be donated to the Chipola Area Healthy Start Coalition.
For more information on the Miss Northwest Florida Pageant or any upcoming preliminary please contact the Executive Director of Miss Northwest Florida, Robin Mount at missnwfl@yahoo.com or Calhoun County