Blountstown Tigers host spring football jamboree May 18; Tigers beat Bulldogs 6-0, Bulldogs overcome Sneads by 16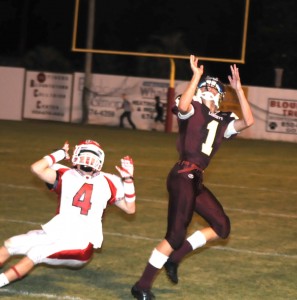 by Richard Williams, Journal sports writer
The Blountstown Tigers hosted a spring football jamboree May 18 with Sneads and Liberty County each coming to play in the contest. Each team played two quarters against the others at Bowles Field in Blountstown.
The Tigers opened against the Sneads Pirates and the spring rust showed early for Blountstown. Sneads used an 80 yard run up the middle to move to the Tiger goal line and then punched it in for the early 6-0 lead. With no special teams play in the contest all teams were required to go for two points after a touchdown. The conversion failed as the Tiger defense stopped the Pirates short.
An unforced Blountstown fumble gave Sneads the ball near mid-field and the Pirates used a long pass to set up their second score of the game. This time the conversion was good and Sneads held a 14-0 lead. The Tiger defense started getting more pressure on the Pirates and the result was a Sneads fumble the Tigers returned for a touchdown. The conversion failed and the half ended with Sneads ahead 14-6.
In the second contest of the night, Liberty County scored early as the Bulldog running attack kept Sneads moving backwards. Liberty used a 61 -yard run and then scored again on a short run to move ahead 16-0 after making both two-point conversions. Neither team scored in the second quarter and Liberty ended the half ahead by 16.
The final contest of the night featured Blountstown and Liberty County. The Bulldogs threatened as they moved the ball inside the Tiger ten yard line, but the Blountstown defense stiffened and shut down the Bulldog attack.
Both teams had trouble holding onto the ball, but in the end it was a Liberty fumble that would prove to be the most costly as the Tigers converted the miscue into a touchdown to win the half 6-0.