Student charged with battery in bloody fight in LCHS ag classroom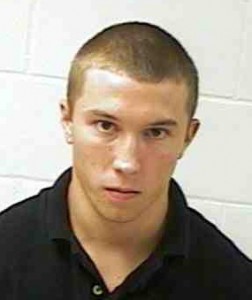 An 18-year-old Liberty County High School student was charged with battery after a fight in the ag shop just before noon Thursday.
A student who ran to the office to report the altercation said there was "blood everywhere."
The principal and School Resource Officer Lt. James Lowery found the victim, Tyler Davis, 19, with facial injuries. His right eye was swollen shut and his face was bleeding.
Witnesses said Davis had played a joke recording on his cell phone and told Lucas Uzzell the call was for him.
Witnesses said Uzzell warned Davis he was going to "pound him in the face" if he played it again.
Davis reportedly replied, "Go ahead and hit me" and played the recording once more.
Witnesses said Uzzell struck Davis five times in the face with a closed fist.
Uzzell was taken into custody. Davis was transported by ambulance to the emergency room at Calhoun-Liberty Hospital, where he was treated and released.