Teen charged with battery on boyfriend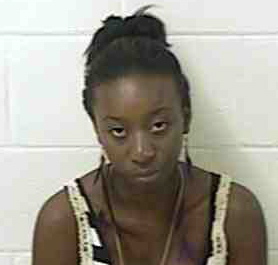 An 18-year-old woman was charged with domestic battery following a disturbance Sunday near Aspalaga Road in Liberty County.
Arrested was Raveen Lindsey of Brockton, MA.
Bockton reported that her boyfriend hit her and said she was having trouble breathing.
Deputies arrived at the Sykes Lane residence around 7 p.m. to find that she appeared unharmed while her boyfriend had marks on his legs where he had been kicked.
Brockton said she started hitting her boyfriend in the face after he called her a name and he put his arms around her, causing her to black out. She also said he broke her cell phone.
The 21-year-old man said she became angry when he got a call from another woman and began hitting him. He said he wrapped him arms around her for about 15 seconds in an effort to calm her down and told deputies she was two months' pregnant with his child.
He said he tried to call the sheriff's office but Lindsey took the phone from him.
She began hitting him again and he told her to leave. She walked out of the room but wouldn't leave the residence. When he handed her purse to her, she began hitting him again, he said.
He said he once more put his arms around her shoulder and began opening the door to get her out when she broke free, got on the floor and started kicking him. She then left.
Brockton admitted to being the primary aggressor and said her boyfriend never hit her.
Following her arrest, Lindsey became verbally abusive with deputies and said she had been held hostage. When they asked how he held her hostage, she could not give a good response, a deputy's report noted.