Sheriff says McLemore's death was a suicide; two other wounds plus fatal head wound found on body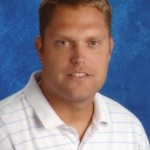 by Teresa Eubanks, Editor Calhoun-Liberty Journal
The death of Blountstown Middle School Coach Tranum McLemore, whose body was found in his Bristol home Wednesday, was the result of a self-inflicted gunshot to the head, according to Liberty County Sheriff Donnie Conyers. Two other gunshot wounds were found on his body; one in his upper arm and the other on his leg.
During an autopsy late Thursday afternoon, the Leon County Medical Examiner's office made the preliminary finding that McLemore took his own life.
The sheriff acknowledged that the fact that McLemore had three self-inflicted bullet wounds made it an unsual case.
"It appears the first shot was a shoulder wound. The second was a fatal shot to the head. As he fell, a third shot went into his leg," Conyers said. "The bottom line is that the cause of death was a bullet to the head."
The body was found on the bedroom floor. A Ruger 9mm semi-automatic pistol was under McLemore's left leg, according to a news release from the sheriff's office.
McLemore's wife, Winter, called the Liberty County Sheriff's Office that night to report an incident of domestic violence between herself and her husband. When she arrived at the sheriff's office at 9:15 p.m., she had obvious injuries. Deputies were then dispatched to the couple's residence at 14222 NW Hoecake Road, where they found her husband's body.
The sheriff requested the Florida Department of Law Enforcement (FDLE) assist in the investigation. The FDLE mobile crime processing unit was on site by 11 p.m.
"Initial findings of the investigation suggested that Mr. McLemore had shot himself after Mrs. McLemore had fled the home," according to the news release, which noted that it could take up to eight weeks for the final FDLE report to be completed.
"Domestic violence is a terrible thing to be inflicted upon a family," the sheriff said. "For that reason, my office has been very aggressive in dealing with domestic violence cases and we will continue to be aggressive in such cases. My heart goes out to the families involved in this case and their three children."
————————————————————————
Tranum H. McLemore 
BRISTOL  – Tranum H. McLemore, 35, of Bristol, passed away on Wednesday, April 4, 2012.
A native of Wewahitchka, he was born February 21, 1977 in Panama City to Klenton and Penny McLemore.  He was a member of The Church of Jesus Christ of Latter Day Saints. Tranum enjoyed hunting, fishing and baseball.  He graduated from Wewahitchka High School in 1996 and Florida State University in 2001. Tranum was a Physical Ed Teacher for Blountstown Middle School where he coached football, basketball and baseball. He took great pride in impacting the young lives of those he taught and wanted to make a difference. Tranum was a loving husband and father.
He was preceded in death by his grandfather, Thomas Howell McDaniel and a brother, Sterling McLemore.
Survivors include his wife, Winter McLemore; three beautiful daughters, Autumn, AubriAna and Aubrynn McLemore; his father, Klenton McLemore and his mother, Penny McLemore and her husband, Charles Mayhann; seven brothers, Robert Knowles, Lee, Will,  Davis, Klenton, Mitchell and Scott McLemore; a grandmother, Minnie Ola Pridgeon McDaniel and numerous family members.
Family will receive friends at the church an hour prior to the service.
Services will be held on Saturday, April 7 at 2 p.m. (CT) at First United Methodist Church of Wewahitchka with Pastor Jeremy Pridgeon officiating. Interment will follow in Jehu Cemetery.
Southerland Family Funeral Home in Port St. Joe is in charge of the arrangements. Condolences may be submitted or viewed at www.southerlandfamily.com.