Naked man arrested after disturbance at Camel Lake Saturday
by Teresa Eubanks, Journal Editor
A man under the influence of mushrooms ran naked and screaming through the campground at Camel Lake before being arrested after a foot chase and taken into custody with the assistance of another camper, according to a report from the Liberty County Sheriff's Office.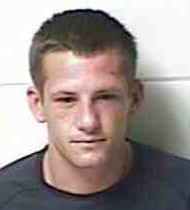 Campground director Gerald Thorpe, 69, reported that he was awakened by someone beating on his door, rocking his trailer and screaming uncontrollably around 3:30 Saturday morning. He looked outside to find a naked white male lying on the ground. He later discovered that a plaque and a handle had been torn off his trailer.
The man, later identified as 27-year-old Tyrell Joseph Cuerrier of Lake Mary, FL, was gone when Deputy Jonathan Gentry arrived. As Gentry and Thorpe began searching for him, a frightened camper told them she heard someone screaming repeatedly near the lake.
The deputy was searching that area when he saw a naked white male race through the campground and ran after him. The pursuit continued until Cuerrier
suddenly stopped and knelt on the ground.
Gentry tried to calm Cuerrier, who was screaming and yelling that he wanted to go home. The deputy's report noted it was "very apparent" that the man was under the influence of drugs.
The frantic man bolted when the deputy moved closer to him. Cuerrier ran into the woods before making another abrupt stop, at which point the deputy grabbed him and brought him to the ground. He tried to pull free from the deputy and, despite a warning that Gentry would use his pepper spray, Cuerrier would not cooperate. When the first blast of the spray didn't stop him, a second was used and the deputy was able to restrain him. While still on the ground, Cuerrier continued struggling and kicked the deputy several times in an attempt to get away.
The two men struggled for about five minutes until another man arrived to assist the deputy. Kyle Wyman, a Marianna resident staying at the park that night, helped hold Cuerrier down as he continued to make repeated attempts to break free while still screaming.
Liberty EMS arrived to transport Cuerrier to Calhoun-Liberty Hospital. As the deputy and Thorpe talked with campers in an effort to identify the troubled man, they were approached by Ana Rosen, 20, of Winter Park, who said she was camping with Cuerrier.
She stated that Cuerrier ate some mushrooms by the lake in an attempt to get high but as they walked back, he became erratic. By the time they reached their campsite, he had become very angry and screamed at her to stay away from him.
She said she was scared of him and stayed in their tent as he continued screaming. Others at the park were awakened by his screams and frightened as he continued to yell and run around the campground without any clothing.
After being examined at the hospital, Cuellier was taken to the Liberty County Jail. He admitted to the deputy that he had consumed mushrooms earlier that night.
He was charged with criminal mischief, disorderly conduct and resisting with violence. He was later released on $500 bond.