Broadband Network installation starts soon
from Opportunity Florida
MARIANNA – The interior of this hollowed-out 30-year-old factory building looks more like a scene from NASA than the sewing operation that originally occupied the facility. Within this abandoned 31,000 sq. ft. building in the Marianna Industrial Park, rows of white and silver colored telecommunication dishes and boxes of related electronic equipment are arranged in neat, tagged, inventoried systems, ready for attachment to existing communication towers throughout the eastern end of the Florida panhandle. High-speed, high capacity broadband is soon to be a reality throughout counties served by Opportunity Florida through the Florida Rural Broadband Alliance (FRBA).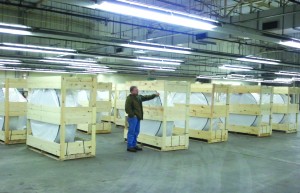 Opportunity Florida, along with its sister organization, the Florida Rural Heartland Economic Development Initiative, are co-owners of the Florida Rural Broadband Alliance (FRBA). The two economic development organizations serve state designated "Rural Areas of Critical Economic Concern," most often referred to as RACECs. Opportunity Florida, headquartered in Marianna, is the state's first designated RACEC and serves 9 counties, with the recent addition of Wakulla, County, by Governor Rick Scott. The RACECs jointly own and operate FRBA, a recipient of a $24 Million federal stimulus grant for the purpose of providing "middle-mile" broadband telecommunication capacity to this rural region.
FRBA will employ a network of towers throughout an eight county region that includes Holmes, Washington, Jackson, Calhoun, Gulf, Franklin, Liberty, and Gadsden. Wakulla county, a recent addition to Opportunity Florida, was not part of the original broadband grant.
Considered the "great equalizer" by rural economic developers, broadband provides the data capacity to support computerized digital equipment and networks that can allow remote, rural areas to compete for jobs with urban areas.
Many parts of rural America do not have affordable access to "always-on, high capacity data networks" and some still rely on dial up Internet access. All modern logistic and distribution systems, for example, depend upon high capacity broadband and digital services.
Broadband is equally important to public service, education and the medical community. Telemedicine, allowing doctors to interpret and diagnose through digitally delivered scans and tests while emergency personnel can provide services under medical supervision through telemetry.
Broadband is becoming the standard means of delivering distance learning through graphic and audio video means and many college campuses now provide anywhere classes through the Internet.
Public service and utility organizations utilize digital, high-speed radio sidebands for emergency, police and service restoration services and monitoring. Typically, these services are not possible due to limited capacity in many small towns and rural areas.
Broadband, a constantly changing definition, generally refers to multichannel telecommunication paths over a fixed or wireless network. Of course, the use of broadband is usually synonymous with the Internet, including voice and data.
The FRBA system will generally be deployed over wireless paths and made available to "last-mile," or retail customers, not to the end user. FRBA was designed to provide high capacity broadband service to end-use providers, generally, where adequate service is not otherwise commercially available. The wireless system should typically deliver data at speeds 12 times those of existing digital subscriber line services.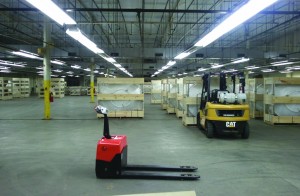 The total cost of the FRBA network is budgeted at $34 million, including the $24 million broadband grant along with a $10 million "in-kind" contribution from local governments and public authorities. FRBA was funded as part of the American Recovery and Rehabilitation Act, more commonly known as the Federal Stimulus Program. The grant is administered through the National Telecommunications and Information Administration (NTIA), an agency of the United States Department of Commerce.
The Marianna warehouse is fitted with mandatory fire protection and 24 hr. audio/video security surveillance, both requirements of the NTIA. Trucks are arriving weekly with additional equipment that is being installed by Rapid Systems, a Tampa contractor specializing in high speed wireless networks. The construction and deployment is being managed by G4S, an international provider of services to both private and governmental institutions.
Deployment of the network will commence within the next few weeks as the material stocking phase is completed.
More information about the Florida Rural Broadband Alliance (FRBA) project can be obtained through the WeConnectFlorida.com Internet web site.