Blaze destroys Bristol home
by Teresa Eubanks, Journal Editor
A fire that destroyed the home of Jim and Celeste Shuler is believed to have started in the carport where a truck was parked, according to Bristol firefighter Richard Mims.
He said the four-bedroom home was fully engulfed when firefighters arrived at the 13432 NW CR 12 residence at 5 p.m. Friday.
"The fire got up in the roof and everything just fell down," according to Celeste Shuler. "The main thing is that we're safe." The family was out of town at the time.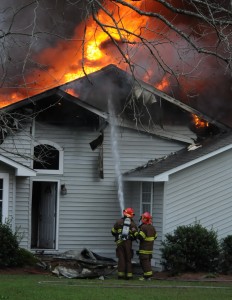 She said there was nothing that could be salvaged from the home.
"A lot of people have given us clothing and household goods," she said. "We're thankful we live in such a great community where people come together in a time of need."
The couple's seven-year-old triplets - Jimmy, Jackson and Hunter - "are doing OK," she said, but "They miss home."
The family is now looking for a place to rent as they begin to rebuild their lives.
A fundraiser is planned for Friday, April 13 to help the family with their many expenses. The cookout will be set up along SR 20 in Bristol between the Talquin Electric office and Ace Hardware.
Mullet plates including coleslaw, cheese grits, dessert and bread will be sold for $7 each. Deliveries are available for orders of five or more plates. For more information, contact Sue at 643-4040.